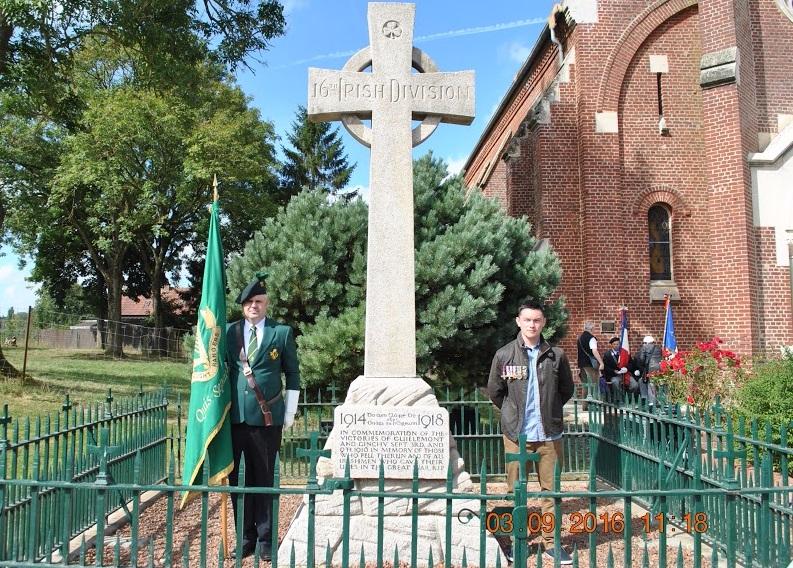 At the invitation of the people of Guillemont in the Pas de Calais region of Northern France ten members of the Connaught Rangers Association made their way to the village, which is situated about eight kilometres east of Albert on the Somme, last weekend.  The occasion was the centenary of the Battle of Guillemont in the Great War on 3rd September 1916.  The British army had been trying to take this German strongpoint for six weeks and both sides had lost many thousands of men killed with the wounded and missing amounting to over 100,000 each.
On 3rd September 1916 it was the turn of the 16th Irish Division and the 47th Brigade in particular with the 6th Battalion Connaught Rangers leading the attack along with the 7th Leinster Regiment.  The commanding officer of the 6th Battalion had instructed his men to infiltrate forward trenches in the 1600 metres of ground separating Trones Wood from the village whilst the British artillery bombarded the village.
When the barrage lifted the Connaught Rangers including men from Boyle only had 650 metres to charge whilst the Germans extricated themselves from their underground bunkers and set up their guns.  Although the Rangers lost over 200 men prior to the attack with friendly fire falling short the 550 men left quickly overcame the surprised German defenders and contributed to possibly the greatest Allied victory in the 18 week Somme campaign.  Thomas Hughes from Monaghan of the Connaught Rangers won the VC after capturing a machine gun and taking its crew prisoners of war although wounded himself four times, but unfortunately the Rangers commanding officer, Lieutenant Colonel Lenox Conyngham from Derry was killed.
The locals rebuilt their village in the 1920s and kept a special place in their hearts for the Connaught Rangers.  About 500 people plus several television crews turned up passing through cordons of security police after recent terrorist activity in Northern France.  The Irish delegation was led by Heather Humphries TD, Minister for the Arts, Culture, Local Affairs and the Gaeltacht, whose ancestors fought with the Leinsters and the Irish Ambassador to France, Mrs Geraldine Byrne Nason.