News
Feighan addresses UK politicians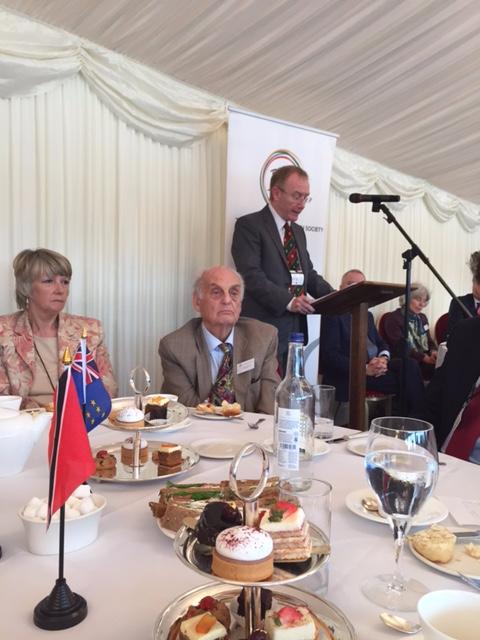 The following is an address delivered by Boyle based Senator Frank Feighan on 'Ireland & the Modern Commonwealth', at an event in the House of Commons, London, Friday, October 7th 2016.
Senator Feighan was invited to speak on the topic at an event hosted by The Rt Hon the Lord Howell of Guildford PC and Lord Rana MBE on behalf of The Royal Commonwealth Society Ireland Branch:
Ladies, gentleman and distinguished guests, I am really delighted to be here today to speak on this very important and timely topic, 'Ireland and the Modern Commonwealth'.
First of all, I would like to tell you about where I come from and my family background.
I am a rural politician from the West of Ireland and was first elected as a member of the Irish Senate in 2002; twice elected as a member of the Irish Parliament in 2007 and 2011 and I am currently a Senator in the Upper House.
I am a former Chair of both the British Irish Parliamentary Assembly and the Joint Committee on the Implementation of the Good Friday agreement.
I am currently an active member of both while I am also a member of the North South Inter-Parliamentary Association.
I have a deep personal interest in Anglo-Irish relations, which continues to play such a central part in all our lives.
My late father lived and worked in the UK for most of his adult life. And like many Irish in Britain who have made places like London, Manchester, Birmingham and Glasgow their home, my father worked hard but was treated with fairness and respect.
It is something that my family and indeed hundreds of thousands of Irish families truly appreciate.
Today, as generations including my father went before them, tens of thousands of Irish continue to live and work in Britain, the US, Canada, Australia, New Zealand and in the four corners of the world.
They make up Ireland's huge global diaspora. It is remarkable to think that 70 % of Irish people living abroad reside in Commonwealth countries.
I have also travelled extensively across the world over many decades; indeed I worked in Australia more than thirty years ago. During this time, I have had the privilege of seeing at first hand that wonderful Irish Diaspora and how easily Irish people have assimilated into different cultures and countries. It really is a wonderful mix of people, talent and skills.
As we all know too well, both Ireland and the UK have a shared and a divided history. It is a history marked by tragedy and triumph, success and failure, loss and hope.
Part of my own family's political lineage certainly illustrates the complexities of Irish History. My grandfather James Feely was an IRA Commander in the 1920s and was interned as a political prisoner. He later became one of the first members of the Irish State's police force, An Garda Síochána
Ireland and Britain's shared history has certainly produced many seminal moments, many of them often mixed with joy and sadness:
The Home Rule Bills
The end of the War of Independence in 1921 and the creation of an Irish Free State following the signing of the Anglo-Irish Treaty
The outbreak of the two World Wars
Ireland entering the Common Market in 1973 with the United Kingdom
The Northern Ireland Troubles which brought so much pain and heartbreak to many communities and families across both islands.

From the 1980s onwards, thankfully, hope began to replace despair as Irish and British governments began to work closer together to achieve peace. Certainly, one of the proudest moments of my life was when the Anglo-Irish Agreement was signed in 1985 by the then Taoiseach Garrett Fitzgerald and British Prime Minister, Margaret Thatcher.That agreement paved the way for the signing of the Good Friday Agreement in 1998.The Agreement set out a framework for both communities in Northern Ireland to resolve their differences and end decades of violence. This Agreement was overwhelmingly approved by the people of Ireland in referendums both North and South.This new political dawn has allowed us to move on from the divisions of the past to a deeper understanding of and respect for traditions, values and culture on both islands.

The new climate of tolerance and understanding gave me the opportunity to make an important gesture in 2012 when I wore a poppy in the Irish Parliament on Remembrance Day. I did this to commemorate the thousands of men from across the island of Ireland who fought and died in the First and Second World War.

For me being the first politician to wear the poppy in the Irish parliament was a symbolic gesture to recognise these Irish men, especially the thousands of nationalists from Southern Ireland who fought and died in the Great War – and whose sacrifices were airbrushed out of our history.Thankfully, less than five years later since my gesture, the political establishment and the people of my country are very much aware and much more comfortable with the commemoration and remembrance of these men's sacrifices.

It was another clear sign that this era of peace and reconciliation has helped to bring the people of the island of Ireland and our neighbouring island of Britain closer together in terms of mutual recognition and respect.

Indeed, when we talk about symbols of our national identity, there are none more evident than in our national flags – and thankfully, we can now all embrace our flags with respect and pride without being accused of militant nationalism and unionism.

There have been many positive milestones across our two islands in this welcome era of peace and reconciliation.  Among them was the historic first visit by the Queen to the Republic of Ireland in 2011 and followed by the momentous State visit by President Higgins to the UK in 2014.

It is a wonderful thing to say now that the relationship between Britain and Ireland has never been more cordial or stronger – politically, socially, culturally and economically.

Recently in the Irish Parliament, I called for a debate on the merits of the Republic of Ireland rejoining the Commonwealth.

The Republic already has very strong links with Commonwealth countries in terms of aid, trade, diaspora and sport and I believe this debate about 'Ireland and the Modern Commonwealth' now needs to be advanced and progressed.

Historically, as many of you will know, my country did play an active role in the Commonwealth up to 1949, the year Ireland declared itself a Republic, true and proper. Indeed, it was a Taoiseach from my own political party, Fine Gael, John A. Costello, who declared our country a Republic, which automatically excluded us from membership of the Commonwealth. Some historians claim John A. Costello's decision to declare a Republic was the result of a, let's just say, in political language, an unpleasant dining experience with the Governor General of Canada during a State visit there.

However, I'm sure there were other political motives at play.

As Republics were automatically excluded from the Commonwealth, the rule was changed ten days after my country became a Republic to help accommodate countries such as Ireland to remain. India did become the first Republic within the Commonwealth after the rule change but the Republic of Ireland, for some reason or other, did not avail of the opportunity to rejoin.

Ireland has been outside the Commonwealth ever since and that is 67 years ago.

Understandably, right now, there are fears about the implications of Brexit and what the future holds. Of course, this poses risks to our bilateral trade and the loss of the UK as an important ally in EU negotiations. I want to put it on the record here that the Republic of Ireland will continue to be a strong and committed member of the EU just like the Republic of Malta and the Republic of Cyprus, which are full members of the Commonwealth.

However, I also believe we now have an obligation to explore new alternative arrangements between both our countries to ensure we protect our strong relationships.

Of course, I know that the debate about Ireland rejoining the Commonwealth will pose challenges and indeed, provoke criticism in some quarters. For some living in Ireland, the symbolism associated with the Commonwealth, especially the Empire dimension, may be a challenge but I believe it is one that can be overcome.

I want to say here that I am a very proud citizen of the Irish Republic. I am extremely proud of our rich and diverse culture, our national identity and our Republican ideals (in the best sense of the word).

As a Republic, we certainly have had to face and overcome many challenges.

Even over the last five years, logical and responsible Government policies have taken our country out of deep recession to a point where we are now one of the fastest growing economies in Europe – and our unemployment rate has been almost halved from a peak of 15.1% in 2011.

On the international stage, the Republic of Ireland continues to punch above its weight on a number of fronts – and that's not just at a sporting and cultural level.

Last year, Ireland celebrated 60 years of active membership of the United Nations. We have a strong tradition in UN Peace Keeping Operations around the world and we are proud of our unbroken record of service for almost six decades.

Ireland certainly plays on its strengths, being part of a greater international alliance where our evident talent in diplomacy always come to the fore.

Against this backdrop, I believe my country has a lot to contribute in the context of the continued development of the Commonwealth. Our membership would certainly not diminish our sovereignty or status and I believe we are confident and mature enough to embrace change for the better. There is certainly far more that unites than divides and we should not be fearful of having this debate.

There are a lot of countries represented here today which have a similar history to Ireland. Most of the Commonwealth countries were under colonial rule, though some were not.

It is noteworthy that what was formerly called the British Commonwealth is now called the Commonwealth of Nations, promoting many fundamental ideals. These include world peace; economic development; the rule of law; the narrowing of the wealth gap; an end to racial discrimination; liberty, regardless of race or creed and the inalienable right to free democratic processes.

And so I would appeal to all of you and your colleagues right across the Commonwealth to publicly share your positive experiences and to engage in this important debate on Ireland and the Modern Commonwealth.

I believe the return of the Republic to the Commonwealth, which has a population of 2.2 billion and 53 independent and sovereign states, has many clear benefits. Indeed, the population of the UK is less than 3% of the total population of the Commonwealth.
Trade between Commonwealth members is very high. Over the last two decades, the importance of Commonwealth members to each other as sources of imports and destinations for exports has grown by around a quarter and third respectively.
Ireland continues to maintain strong business and trade links with many of these Commonwealth countries and as a member, it would clearly benefit from these strong trade links.
Young people are also an essential part of the Commonwealth family. Ireland's population consists of a large percentage of young people and fifty percent of the Commonwealth is also aged 25 or under.  The skills, innovation and creativity of our young Irish Diaspora represent an incredible opportunity in which the Commonwealth could invest.
It is important to note as well that Commonwealth countries and their peoples are able to draw upon shared common legal systems, similar political institutions and a shared language to advance bilateral and multilateral connections in diplomacy, trade, development, culture and sport.
There is no doubt that there is great potential to further strengthen ties between my country, Northern Ireland and the rest of the UK – and to do so without altering the Republic's sovereignty or membership of the EU.
Now more than ever we need to strengthen existing trade and business relationships between both islands and with other Commonwealth countries.
Culture and sport too offers a potentially fantastic opportunity for exploring Ireland's association with the Commonwealth of Nations. Many sports in the Republic and Northern Ireland work together on an All-Ireland basis. They include Hockey, Rugby, Rowing, and Cricket, to name a few.
Certainly from a sporting perspective, I believe there could be many benefits for our whole island. Could we not all envisage the real possibility of an All-Ireland team competing in the Commonwealth Games at some point in the future?
Who knows may be in the not-too-distant future, we could see the island of Ireland hostingthe Commonwealth Games. We can dare to dream that such possibilities could help the formation of an island of Ireland soccer team.
It is also worth highlighting here that the Commonwealth Youth Games are due to be held in Belfast in 2021, which brings a further focus on sport and the Commonwealth on the island of Ireland.
I strongly believe that we should continue this very constructive and lively debate about the merits of the Republic rejoining the Commonwealth.
Such a debate has never been more appropriate in this Brexit era – as we now search for new arrangements to help protect the seamless co-operation which continues to be at the heart of UK-Ireland relations.
Whatever the nature of the UK's exit from the EU, there is certainly a unique relationship between the UK and the Republic, which sets it apart from other EU states and warrants a special approach. This is particularly significant when considering the EU's 4 freedoms i.e. people, goods, capital and services.
There is no question that a huge void will be left when the UK is likely to leave the EU by mid-2019.  That is why all of us want to and should highlight and discuss ways of addressing that void.
Of course, I am realist and I know that the debate about Commonwealth membership for the Republic of Ireland will involve examining many issues, complexities and sensitivities.
However, there are many countries much larger than Ireland which have joined the Commonwealth so I believe there can only be many positives for the UK, the island of Ireland and all other members of the Commonwealth.
To conclude, I am really looking forward to engaging with all of you on this issue and I look forward to your wisdom and guidance as the debate on 'Ireland and the Modern Commonwealth' continues to gather momentum.
As our famous poets WB Yeats said: 'Do not wait to strike till the iron is hot; but make it hot by striking.'
Thank you very much