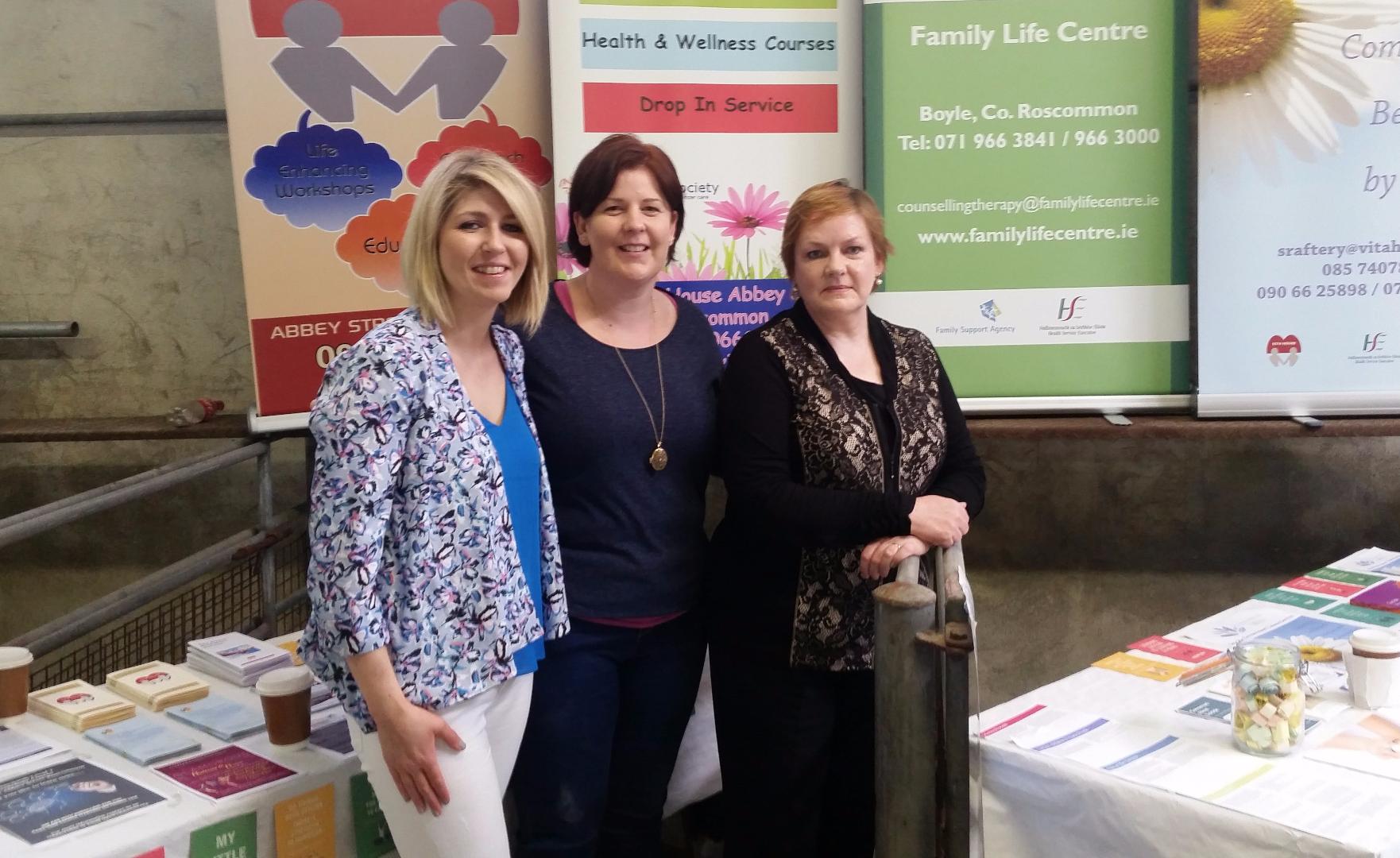 Welcome to a two part once off series by Boyle Family Resource Centre on Suicide Prevention. Part one, which is published today, deals with suicide and shows that suicidal thoughts can affect many people:
Suicide – Part One
Suicidal thoughts can come to any of us. Life difficulties can be very challenging at times. Stress, depression, serious illness, mental health issues, addiction, relationship difficulties, sexual orientation, financial problems, major life changes, and others can leave us feeling over whelmed, unable to cope and feeling powerless.
People often say (in ashamed tone) "I can't believe I felt suicidal or had suicidal thoughts". "I felt like ending it all as I couldn't cope". The truth is BAD TIMES PASS.
Cycle against Suicide which recently stopped in Boyle says:
"Its ok not to feel ok and its absolutely ok to ask for help"
Suicidal thoughts are a symptom of how you are feeling, of the mental anguish you are going through. But they are not YOU. When we are having pleasant thoughts we know they are not us. Our thoughts don't define us, but negative thoughts can take us over. It is so important for us to talk to someone, reach out, whether it is a family member, friend, our GP, a helpline or a local supportive organisation, taking that step to share how you are feeling is crucial. Putting your thoughts out verbally is often half the battle as it stops the spinning of these in your head and takes away some of the intensity of feelings associated with negative thoughts. We can change our thinking and this in turn will change how we feel.
An Taoiseach Enda Kenny, TD, in his foreword to the National Strategy to reduce suicide 2015-2020, titled 'Connecting for Life' says "The strategy is all about connection, the ties that bind. We know that connection to family; friends and community protect us from isolation".
Former president, Mary McAleese in a message in the HSE published 'Suicide Prevention in the Community', a practical guide (2011) says "The tragic fact, however, is that most people don't want to die; they just want an end to the pain and emotional distress that are experiencing".
Suicide Prevention is about promoting positive mental health and supporting people. As we know many communities have started suicide awareness and prevention groups in response to a suicide in their community. Mental Health carried a stigma in Ireland, thankfully this is changing and talking about one's mental health is now more acceptable in this country. Many celebrities have opened up about their struggles; Gareth O'Callaghan and Nial Breslin (Bressie) are two that come to mind. They have shared their struggle in their books and many of us can relate to their stories.
Young people often struggle, social media, school, bullying, exams, change are just some of the challenges they face. Moving from primary school to secondary school, is a big life change, a new school usually much bigger than the one they have just left, leaving friends, leaving familiar teachers, all this can cause huge anxiety. Again moving to third level education can also bring up all these feeling again. And it's not cool to talk about this especially if 'everyone' seems to be coping well.
The young person begins to think it's me; there is something wrong with me.
Sometimes young people and adults resort to drugs or alcohol to numb the pain. Self-harming is another strategy people use to release pain or to feel something if they are feeling numb. People who self-harm may not have suicidal intent but they are at a higher risk.
Men are also in a higher risk group. Society expects men to be "manly", be strong, and not be vulnerable. Many men don't visit their GP even with physical complaints so they are very reluctant to talk with anyone. Sexual orientation especially being gay can be very stressful for young men or teens especially.
Approaches which seem to help men are activity based e.g. sport, GAA, Soccer, and more recently Men's Shed, an Australian concept now very active in Ireland. The primary aim of men's shed is to improve men's health and wellbeing. (www.mensshed.ie)
The Gaa has backed the "little things" campaign, launched in October 2014 by the HSE National Office for Suicide Prevention. The idea behind this was to protect and nurture our mental health by doing little things eg, exercise, cup of tea and a chat with someone, keeping in touch with others.
The completion of suicide by women is less common but happens and is equally devastating. Because women are more likely to go to their GP, talk to a friend or seek help from services like counselling or helplines all of which will lower their risk and help them get a different perspective on whatever is troubling them.
Living with someone who is suicidal puts a huge strain on a family or partner. "Suicide Prevention in the Community" published by the HSE in 2011 mentions some Do's and Don't's to help keep a loved one safe.
Do's
Do ask about suicide
Know the warning signs (these can be sociological, psychological and biological)
Sociological examples: Debt, issues of employment or unemployment, marriage breakdown, substance abuse, social isolation,
Psychological examples: stress, feeling of hopelessness, loneliness, depression, mental illness, all or nothing thinking,
Biological examples: Diagnosis of a terminal or life changing illness, long term pain,
Keep calm
Try to be accepting and honest
Give them as much control as possible, offer choices
Make it as difficult as possible, e.g keep medications, guns etc out of access
Donts
Don't panic
Don't ignore signals
Don't promise secrecy
Don't leave the person alone
Don't discuss if suicide is right or wrong, look at choices
Don't tell the person to be happy with what they have got
Don't challenge them to go ahead
Get help, professional help if possible
We all matter to our families, friends, work colleagues, work places, to our communities.
The loss of one person to suicide has a massive impact on everyone in that person's life and they cannot be replaced. Many communities have set up local groups in response to a suicide in their area. Many people have completed the ASSIST course run by the HSE in conjunction with the National Office for suicide prevention. This course equips participants with the skills to deal with a person they think is suicidal.
Other groups like the one in Galway, who patrol the streets and river areas in the city on certain nights of the week to prevent people and especially young people from completing suicide. The goodness of people and the care shown in communities to try to prevent deaths by suicide is evident all over the country. Many walks, cycles and other fundraising events occur to raise awareness and provide supports. In his foreword in the "Connecting for Life", national suicide strategy to reduce suicide 2015-2020, Enda Kenny, An Taoiseach says "suicide prevention is everyone's concern" and later he says "As a nation we must not alone become mindful, but minding of ourselves and those around us".
THE LITTLE THINGS
Launched in October 2014 by HSE
Keeping Active:
Being active every day, something as simple as a walk, is proven to have a positive impact on your mood.
Talking about your problems:
Problems feel smaller when they are shared with others, without having to be solved or fixed, just talking about it will do you good
Looking out for others:
Lending an ear to someone else in trouble, or catching up with somebody who seems distant, can change their day, or their lives. You don't have to fix it for them – just listening is a huge help.
Doing things with others:
Taking part in a group activity that you enjoy is proven to have a positive impact on how you feel, be it a game of football, joining a choir, volunteering.
Eating Healthy:
A regular healthy, balanced and nutritious diet will help both your physical, but also your mental health, and have a positive impact on how you feel.
Staying in touch:
Catching up with friends and family is good for our mental health, reminding us that we're part of a community, and having a positive impact on how we feel
Drinking less alcohol:
For the average Irish drinker, reducing alcohol will have a positive impact on their health and mental wellbeing, making it easier to cope with day to day difficulties and stresses.
Sleeping well:
Getting a good night's sleep of 7 or 8 hours, as often as you can, will have a positive impact on how you feel. Protect your sleep if you can, it will do you good.
Add friend to your tea:
Arrange to meet friends for socialising
(yourmentalhealth.ie) hse.ie
(Log on tomorrow for the second article in this series titled "Coping after a loved one dies by suicide")
Further assistance is available from Boyle Family Resource Centre on 071 96 63000 or Sinead Raftery, Roscommon Suicide Bereavement Liaison Service on 085 740 7856.