News
Third level courses soon to be available at the Spool Factory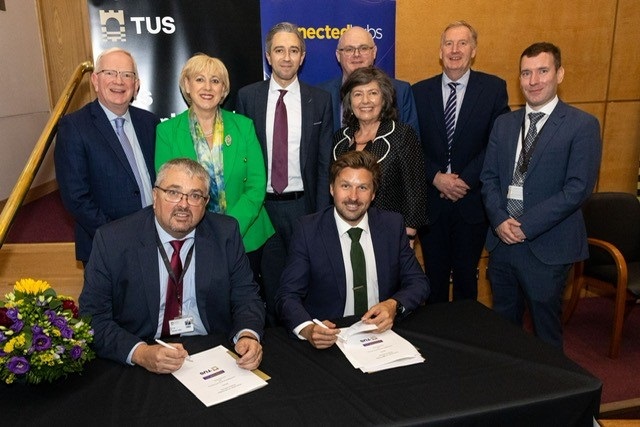 Minister for Rural and Community Development, Heather Humphreys TD, and Minister for Further and Higher Education, Simon Harris TD, have launched a new initiative that will allow TUS third level part -time flexible students who are learning online through the Faculty of Continuing, Professional, Online and Distance Learning to complete college courses in their local remote working hub like the Spool Factory in Boyle.
'Learning in the Hubs' is being rolled out initially in the Midlands under a strategic partnership between Connected Hubs and the Technology University of the Shannon (TUS). The pilot initiative is targeted at adult learners.
It will see students carry out course work and attend classes in a group setting at a Connected Hubs facility.
As part of this initiative, 11 Connected hubs, including the Spool Factory, are already within the catchment area of TUS Midlands Midwest taking part – with plans to expand this network of TUS Learning Gates to all Counties, Towns and Communities that already have Remote working hubs and that are part of the Connected Hubs network.
And as part of the announcement, the following programmes will take place exclusively in the 11 Connected Hubs and newly designated Learning Gates commencing September 23:
Certificate in Business in Entrepreneurship (Level 6) – the objective being to support potential entrepreneurs, start-ups and others locally with an interest in the world of entrepreneurship;
Bachelor of Business (Hons) (Level 8) degree programme with plans to to widen participation in third-level education through general business.
This collaboration between Connected Hubs and Technological University of the Shannon will bring third-level education to communities all over Ireland through the National Hub Network, allowing adult learners to learn in a group setting locally alongside their peers.
Speaking at the launch in Athlone, Minister Humphreys said:
"'Learning in the Hubs' is the latest in a range of exciting new initiatives that we are rolling out as part of our bold ambition to make remote working a reality.
"This is about bringing remote working and learning into the education sphere and into the heart of our rural communities.
"It's about working with our education institutions so that everyone can benefit – the students, the colleges and our rural towns and villages.
"I'm really pleased to announce this exciting new initiative today, with a particular focus on hubs in the Midlands and courses being taught by the Technological University of the Shannon.
"I believe that by giving our students that choice to do a course in their local hub, we will breathe new life into towns and villages and change the way education is delivered for the better."
Minister for Further and Higher Education, Research, Innovation and Science Simon Harris TD said:
"I am delighted to see the setting up of the "Learning in Hub" initiative which brings third-level education to communities across the country.
"The 11 Learning Gates established by Connected Hubs and TUS mean part-time adult distance learners can study together in their locality without having to travel to a college campus.
"More and more, people are accessing education at different stages of their lives. It is essential that we provide flexibility and agility to learners.
"This means allowing people the option of studying remotely. This initiative is really important as it ensures a person can study remotely but can do it out of the family home and with their peers.
"The delivery of two new courses by TUS that will be delivered exclusively online through the network in Business and in Business in Entrepreneurship is really welcome too."
The Faculty of Continuing, Professional, Online and Distance Learning, TUS, delivers accredited academic programmes from Level 6 to Level 9, online. The Faculty currently has students throughout Ireland.
The Faculty accredited hubs as TUS Learning Gates in 2022, to support its online learners and recognise the value of leveraging the technology in hubs all over Ireland.
The objective is to capitalise on the professional spaces within the hubs by making students and lecturers aware of the facilities.
The adult learner can access state-of-the-art facilities within Connected Hubs and contribute to local, regional and national economic development. This is a powerful addition to the range of services available in Connected Hubs.
Stephen Carolan, National Hub Network Manager said:
"Members of the Connected Hubs will apply to become TUS Learning Gates, therefore demonstrating a certain standard towards supporting learners locally. Learners will choose their local Connected Hubs to access their lectures and / or study in groups. This is in addition to enabling the academic to work locally through delivering lectures through the hubs. All of this supports national regional and environmental policy initiatives," 
Dr Prof Vincent Cunnane, President, Technological University of The Shannon said:
"Our Purpose' defined in our 2023-2026 Strategic plan 'is to provide leading student-centred higher education that is research informed, regionally-relevant and accessible to all. The 'Learning in the Hubs' initiative is an example of TUS delivering on this purpose."
Going deeper into our Strategic Plan you will see the plan using the terms 'Connecting' and 'Creating'…and this core theme of our 2023-2026 Strategic plan is very much demonstrated through this collaboration between the 'Connected Hubs' and TUS
Through this collaboration and the signing of the MOU today, the potential of 'Connecting' TUS with 319 COWORKING HUBS Nationally will lead to greater accessibility for adult learners (all learners), enabling them upskill while living locally and/or engaging in Hybrid working locally/regionally, delivering on various national policy objectives.
'Creating' is demonstrated immediately through the online delivery of the two new programmes proposed namely: Cert in Entrepreneurship and Bachelor of Business (Hons). Going forward, I anticipate that this collaboration will create new graduates regionally, create new opportunities regionally and add value to regional development and growth.
Michael Tobin, Dean of Faculty, Continuing, Professional, Online and Distance Learning, TUS.
"Learning in the Hubs is another vital expansion of what hubs offer in communities all over Ireland. Hubs can effectively deliver third-level programmes online and provide a venue and exclusive programmes, to people living locally – it is a very exciting development."
The two new programmes will be run exclusively through the TUS Learning Gate network Learning in the Hubs initiative. Currently, there are 11 TUS Learning Gates regionally dispersed across the counties of Longford, Westmeath, Laois, Offaly, Galway and Roscommon (Spool Factory).
The collaboration between TUS and Connected Hubs will enable this concept to be built nationally providing higher education opportunities online across the country, particularly in rural areas where it may not have previously been accessible. It is envisaged that all counties will have a Learning Gate by September 2023.