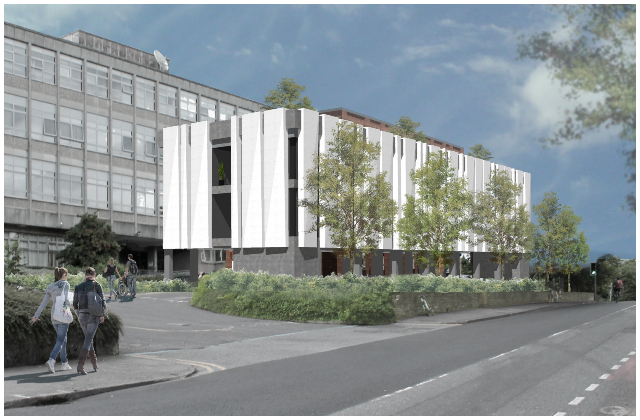 Sligo University Hospital has received planning permission for a new 46 single room development which will be over five floors.
Commenting Grainne McCann, General Manager, Sligo University Hospital said, "Providing additional patient facilities is a key priority for us in SUH. Hospital occupancy rates have been consistently high over the last number of years and we need to address this. This development will provide for 46 new single rooms with ensuite facilities which is really important from an infection control perspective. It also provides greater comfort for patients during their hospital stay. The new ward block would also address demand arising from increasing emergency attendances and admissions now and in the future as the population grows and ages. We will continue to work with our colleagues in HSE Estates and the National Acute Services to progress this project to the next stage, which would be the detailed design phase".
Rhatigan Architects who designed the project welcomed the decision. Director, Ian Pudney said "We are delighted that this project has secured planning permission, which will involve the construction of two new 23 bedroom wards connecting into the existing hospital concourse at Level 3 and 4. The extension also provides additional healthcare space at Level 5 and 6 and is supplemented with additional car parking spaces for the campus with a multi-storey car parking area off Ash Lane. It will enhance the hospital campus and integrate seamlessly with the tree lined street of The Mall to create a new landmark at this gateway to the town."
Background to the design
The design of the extension presents itself as two separate but inter-connecting structures.  A tall 'infill' block consolidates the existing building line and building height along The Mall, while a second, lower block breaks this building line, extending outwards and over the out-patients carpark, resulting in a more human scale, pavilion-like addition to the hospital campus, nestled behind the mature tree line at the boundary to The Mall. The tall infill block links the 1970s and 1990s buildings together through the use of brick material set out in the consistent pattern in keeping with the structural grid of the concrete 1970s building. The trees along The Mall will be framed by the floor to ceiling glazed windows, to create a beautiful vista for patients.