News
5k runway fun run returns to Ireland West Airport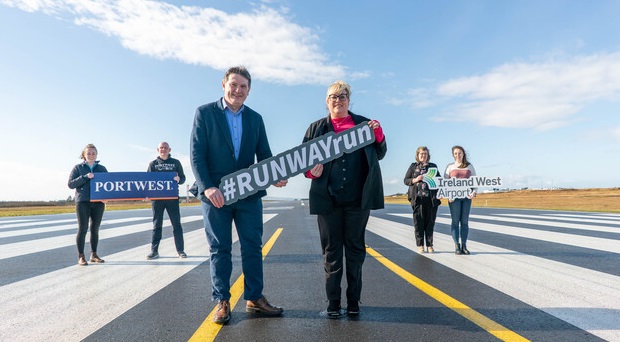 Ireland West Airport is delighted to announce that the Childhood Cancer Foundation, The Kevin Bell Repatriation Trust and Sensational Kids Charity have been selected by airport staff as its charity partners for 2022. Following the onset of Covid-19 in 2020 and the subsequent impact on the airport and indeed every day life, the airport were forced to suspend its annual charity programme in 2020 and 2021 and cancel its hugely popular annual runway run.
With the removal of Covid related restrictions the airport are delighted to once again be partnering with three brilliant charities for the coming year. A number of events will take place during the course of 2022 which will engage passengers and staff with the aim of raising as much money as possible for the three charities. The headline event for 2022 will be the return of the annual 5k runway fun run sponsored by Portwest, which will take place on the runway at Ireland West Airport on Saturday September 10th at 5pm.
Runners and walkers will take-off down the runway at 5pm and complete a 5km course with a difference. All are welcome to attend what promises to be fantastic evening for all the family, raising much needed funds our three charities in 2022. This year will be the first year the runway run takes place on the newly resurfaced runway. Entry to the event costs €20 per adult and €5 for under-16's. A special family rate of €40 will be available for families of 2 adults and 2 kids. All participants will receive a race t-shirt and complimentary car parking and refreshments at the airport will be provided on the day. Participants can sign up and find more information by visiting www.irelandwestairport.com/runwayrun. To mark the special event, all participants who register online to take part will be entered into a draw to win two return flights to Majorca and Cologne with Ryanair. The number of participants is restricted and those interested are advised to register early to avoid disappointment. For the first time this year, a 'Virtual option' will also be available for those who wish to support the three charities but are unable to make it on the day and would like to do a virtual run or walk etc. Please note all existing online bookings which were made for the runway run planned to take place in 2020 are still valid – for queries please email [email protected]
Re-launching the charities of the year programme for 2022 and the annual runway fun run, Joe Gilmore, Managing Director, Ireland West Airport said "After a tough period over the last two years for both the airport and indeed charities around the country, we are delighted to be relaunching our annual charity programme and partnering with three great charities in 2022. Our Staff Charity programme has to date raised almost €150,000 for Irish charities and we hope this year will again see much needed funds raised for the three new charities, who all undertake such fantastic work in our communities. The return of our hugely popular runway run for the first time since 2019, which will take place on our newly resurfaced runway, we hope will be more popular than ever as normality returns to everyday life"
Commenting on the launch on behalf of the Runway Run sponsor, Portwest Ltd, Orla Good, Commercial Director said "Portwest is proud to partner with Ireland West Airport, for the fourth year, to support their charity 5k Runway Run. As always we are delighted to be associated with this great event because while helping people stay healthy, the event also ensures that each of the charities involved this year can continue to provide the amazing services they do. We would like to wish every success to each of the charities involved and to all participants taking part in September."
Elaine Sears, Finance and Administration Manager with Sensational Kids commented, "Sensational Kids is thrilled to be one of Ireland West Airport's chosen charities and we are looking forward to working together throughout the year. We are so grateful for their support and thank them for choosing us as a charity partner. 2022 is a big year for Sensational Kids as we endeavour to tackle the aftermath of the Pandemic and reach as many children with additional needs as possible through our four Child Development Centres located across Ireland. We have an ambitious plan this year to launch a school therapy programme, Occupational Therapy and Speech & Language therapy groups initiative and home therapy resource packs for children who cannot access therapy appointments due to waiting lists. We are also due to break ground on a National Child Development Centre which will be unlike any other facility in Ireland. Following an extension and renovation last year, Sensational Kids in Claremorris now boasts three therapy rooms and a state-of-the-art Occupational Therapy gym. A sensory room will also be completed in the coming months and be used in therapy sessions. The Claremorris centre now has the capacity to see up to 80 children per week for individual one-to-one therapy sessions."
Colin Bell, The Kevin Bell Repatriation trust said "The Kevin Bell Repatriation Trust are delighted to be a Charity Partner of Ireland West Airport in 2022, along with Childhood Cancer Foundation and Sensational Kids. We are grateful to all at Ireland West Airport for renewing this partnership after the postponement due to Covid.
Laura Cullinan, Director at Childhood Cancer Foundation, said: "We are delighted to be one of the chosen charity partners of Ireland West Airport for 2022. This year more than 328 children, adolescents and young adults will be diagnosed with childhood cancer in Ireland and sadly one in five of those children will not survive. As a non-government funded organisation we rely on the generosity of public donations to fund our vital support services for families affected by childhood cancer. We are currently funding projects in children's wards in three hospitals in the western region, helping to improve facilities for families whose children attend a local hospital, outside of the Children's Health Ireland at Crumlin, for their cancer related care. We plan to expand this project in the western region in 2022/2023."
Pictured at the announcement of the charities of the year programme and 2022 runway run are from left to right Stephanie Hughes, Portwest, Donal Healy, Ireland West Airport, Joe Gilmore, Ireland West Airport, Elaine Sears, The Sensational Kids Charity, Loretta Connolly, The Sensational Kids Charity, and Sinead Boyle from Ireland West Airport Photo: Keith Heneghan