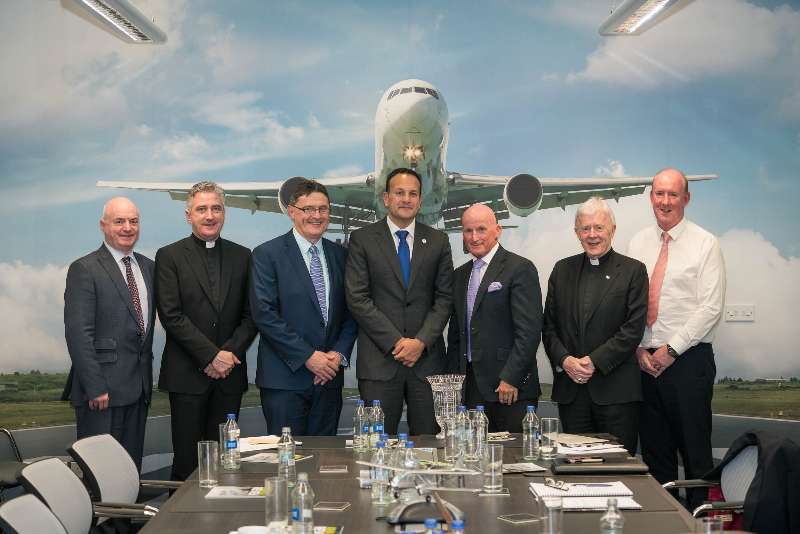 Ireland West Airport were delighted to welcome An Taoiseach, Leo Varadkar, TD to the airport on Ffiday 13th July along with colleagues Minister Michael Ring, TD, Michelle Mulherrin, TD and Fine Gael candidate, Alan Dillon. The group met with the airport board to discuss the airports current growth and plans for future development.
During his visit An Taoiseach reiterated Governments commitment to supporting the airports plans to reach 1 million passengers and its role as a critical economic driver for the West and North West regions.
Welcoming An Taoiseach to the airport, Arthur French, Chairman, Ireland West Airport said 'I would like to thank An Taoiseach for taking the time to visit the airport to discuss a range of important matters. We wish to acknowledge Government's continued confidence and support and in particular the Taoiseach, Minister for Transport Tourism and Sport Shane Ross TD and his Department and our local Minister For Rural and Community Development Michael Ring TD, Senator Michelle Mulherin together with local political representatives. We look forward to continuing to work closely with Government on a long term commitment & investment plan to support the airport's growth and development plans'.
Main photograph shows from left to right: Peter Hynes, Ireland West Airport Board member, Fr Richard Gibbons, Ireland West Airport Board member, Joe Gilmore, Managing Director, Ireland West Airport, An Taoiseach, Leo Varadkar, TD, Arthur French, Ireland West Airport Chairman, Archbishop Michael Neary, Ireland West Airport Board member, Pat Gallagher, Ireland West Airport Board member