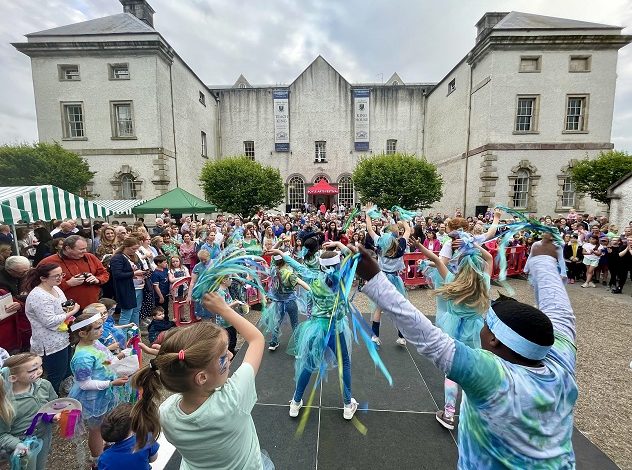 The launch of Boyle Arts Festival 2023 will begin with a parade through the town on Thursday evening, featuring dancers from Victoria Walker Dance School, musicians from Music Generation and members of the ICA Boyle.
This intergenerational collaboration will be a visual feast, ensuring BAF 2023 is launched in style. Please come out and line the streets for the Parade, which will start on the Crescent at 7:15pm and wind its way through the town to King House.
Boyle Arts Festival and the Visual Art Exhibition 'Connections' will then be officially opened by Academy Award nominated actor Brendan Gleeson, in the grounds of King House at 8pm.
This year's Visual Art exhibition has been selected by leading Irish artist Sinéad Ní Mhaonaigh, who brings a new energy and approach to the Festival. Building on the knowledge and interests of such a senior figure in Irish Art Work, the exhibition has a strong emphasis on painting. The theme 'Connections' will be manifested through a pride in place and landscape, ideas, diverse artistic approaches and by linking newer generations of emerging artists with more established senior artists.
The ten day Festival programme includes an impressive mix of live music, visual arts, drama, comedy, film, interviews, parades, free events, workshops, storytelling, children's events, readings, guided tours, free exhibitions, an art trail, multicultural events and much more!
Some of the big names in the live music genre include The Undertones, Jerry Fish, Luka Bloom, Maria Doyle Kennedy, Zoe Conway and John McIntyre.
There will be performances from soprano Celine Byrne, Ireland's finest U2 tribute band, Rattle & Hum, the acapella vocal group Ardú and music from Iona Sound and The Men Who Knew Too Much.
Also making a welcome return to BAF is young Boyle pianist Lenny Chen, who captivated everybody with his performance last year. Our very popular Lunchtime concerts in King House will once again feature students of TU Dublin.
There are spoken word and literary events with Carole Coleman, Eileen Dunne, Cauvery Madhavan, Kathy Donaghy, Ollie Grace, Vona Groarke, Michael Mulvey, The Moylurg Writers and Stephen Murphy.
We have outrageous comedy from the Dublin Comedy Improv group, which features comedians Joe Rooney, Sharon Mannion, Danny Kehoe and Ian Coppinger, along with atmospheric drama from the Breffni Players with 'Lockdown In Boyle' and John McManus's 'The Determinator' performed by Charlie McGuinness.
Local artists and contributors have always been a huge part of BAF and this year we will have music performances from Donal and Dotts O'Connor, Adam Daly and a massive concert performance entitled 'My Generation' with local young people from Music Generation Roscommon.
Come along and join in our Family Day in the pleasure grounds on Sunday 23rd. Your children can join in with Mud Bugs, take part in the Silent Disco, and get free face painting by Fierce Fun Faces or Yoga with Tanja. Grown Ups are welcome to relax, recharge, and regulate with Yoga and Sound. There will be wonderful dance performances with Irish dancing provided by O'Neill Blake School of Dancing and 'Dance with Victoria Walker'. Music Generation Roscommon's Junior Youth Voices accompanied by participants from the Junior Song Camp will busk/perform live accompanied by Musician Educators. Five Junior Bands from Boyle Music Hubs Band Development programme will also perform live.
We are also delighted to host the third and final King House Piano Commission. This year's winners, Bianca Gannon, Dr. Peter Leavy and Fiona Linnane will have their new compositions premiered by Roscommon pianist, Peter Regan on July 28th.
Local historian Frank Tivnan will present one of his mystery tours and journalist Rachel Lavin will discuss 'Myths and Misconceptions of Modern Ireland'. There will be a guided walk with Stories from the Boyle River, poetry reading with Bernadette McCarrick and the always popular singer's night, hosted this year by Lorraine Murphy.
We have a local premiere of the new film 'Ann', which was filmed in Boyle, along with the short film 'The Hitmen' and a documentary on Irish-Indian writer and educationalist Margaret Cousins.
The Festival office at The Royal Exhibition Space on Bridge St. will be open every day from 10am to 5pm (excluding Sundays) until July 29th. Call in for programmes and tickets. For further information, please visit www.boylearts.com Tel. 089 9722477. Email inf[email protected] or follow us on Facebook, Instagram and Twitter.
Boyle Arts Festival is supported by The Arts Council, Local Sponsors, Roscommon Co. Council and Fáilte Ireland. BAF is also supported by the Roscommon Co. Council Creative Ireland Programme 2023.