News
Ballyfarnon man wins best chef title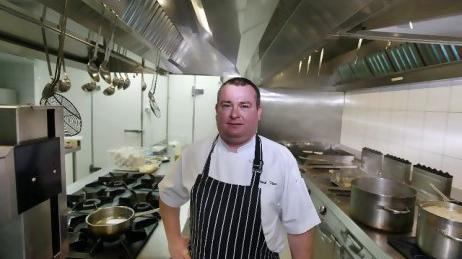 Ballyfarnon native Derek Flynn, who is Group Executive Chef for McGettigan's Pubs worldwide and is based in Dubai UAE, has won the title Best Chef at the Irish Pubs Global Awards, which took place at Mansion House in Dublin earlier this week.
The awards recognise the Emerald Isle's best drinkeries at home and abroad, and were held as part of part of the sixth annual Irish Pubs Global Federation Gathering. The award was given to the chef who best demonstrates an understanding of traditional Irish food and has created an outstanding menu, which incorporates Irish dishes presented in a modern and contemporary style.
Flynn has been working with McGettigan's pub chain since they first opened in 2010 in Dubai and is responsible for managing overall culinary operations and looks after 15 bars worldwide in the UK and Ireland, New York, Singapore, Jakarta, and across the Middle East. His main forté is menu and recipe development. He is also responsible for recruitment and training of McGettigan's culinary talent.
"I am delighted to be awarded with the title Best Chef. The menu that I created at McGettigan's pubs showcases a mix of local flavours in each region and traditional pub food favourites along with a regularly changing and creative seasonal menu and I am proud to represent Irish cuisine across the world including in the Middle East and Asia"
The popular Irish bar took home five awards in total at the Irish Pubs Global Awards. Proving that Chef Derek is the best in the business, McGettigan's won awards for Best Food Experience – Best Gastro Pub for McGettigan's Souk Madinat Jumeirah in Dubai, which is situated next to the iconic Burj Al Arab. It was awarded best overall gastro pub food experience for incorporating Irish food and recipes that are presented in a confident and contemporary way.
"To be awarded Best Chef in the world is a great honour and is testament to our popularity as a brand. We are very proud of our staff and grateful to our customers, who have turned McGettigan's into a household name throughout the Middle East and the rest of the world," says CEO McGettigan's pub group, Dennis McGettigan.
ABOUT MCGETTIGAN'S:
McGettigan's roots go back to 1964, when founder Jim McGettigan opened his first pub on Queen Street, Dublin. A family business from the start, the idea to establish a chain of Irish pubs under the family name, originated through the vision of Jim's son, Dennis McGettigan. The first McGettigan's Irish pub opened its doors in Jumeirah Lake Towers, Dubai in November 2010. With the inaugural venue a success, the brand expanded further, with new bars opening across the UK and Ireland, the Middle East, Asia and USA. Seven years later and there are a total of 15 McGettigan's pubs worldwide with McGettigan's opening at the Hilton Hotel on JBR The Walk in October 2017.