News
'Biggest ever' summer schedule announced at IWAK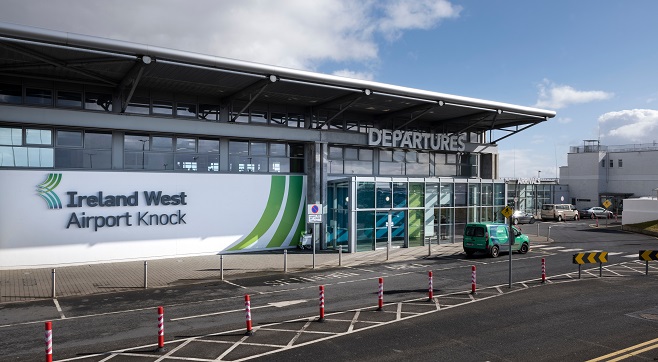 Ryanair has announced its biggest ever Ireland West Airport schedule with 16 routes, including an exciting new route to Lanzarote for Summer '23. The airline will operate over 120 weekly flights to/from Ireland West Airport next summer (+15% growth vs. S22), driving invaluable inbound tourism and offering its customers in the West, North West and Midlands regions unbeatable choice and the lowest fares when booking their summer holidays.
Ryanair's Summer '23 schedule from Ireland West Airport will deliver:
16 total routes incl. 1 new Lanzarote route
Increased frequencies on 5 routes incl. Birmingham, Bristol, East Midlands and Manchester
Over 120 weekly flights (+15% vs S'22)
Supporting over 580 local jobs
Ryanair has operated at Ireland West Airport for the past 37 years and this new record Summer schedule will not only provide Ryanair and Ireland West Airport's customers with recession-busting fares across an unbeatable selection of sunny hotspots and vibrant European city break destinations next Summer but will continue to promote important rural development through Ryanair's support of over 580 local jobs and delivery of even greater connectivity with Europe and its millions of holidaymakers.
Ryanair's Head of Communications, Jade Kirwan, said: "As Europe and Ireland's most reliable airline, Ryanair is delighted to announce even more growth for the West and North West with our biggest ever schedule from Ireland West Airport, offering over 120 weekly flights (+15% vs S'22) across 16 routes, incl. our exciting new Lanzarote route, for Summer '23. With such a vast selection of sunny hotspots and city break destinations to choose from, as well as increased frequencies across popular UK routes like Birmingham, Bristol, East Midlands and Manchester, there really is something for everyone, whether heading away for a bit of rest and relaxation with the family, taking a weekend break to soak up some culture in one of Europe's vibrant cities or simply looking for a stone-throw trip to the UK for a fun-filled night out with friends.
To mark today's good news, we've launched a limited-time seat sale for early bird customers looking to bag themselves a recession-busting bargain on their Summer '23 holiday with fares starting from just €29.99 available now on Ryanair.com."
Welcoming the announcement, Joe Gilmore, Managing Director, Ireland West Airport commented "2023 is shaping up to be the busiest year on record at Ireland West Airport and with flights to 16 different destinations with Ryanair next year, there is a huge choice available for our customers in the West, North West and further afield. Ryanair's continued growth is a huge vote of confidence in the airport and region and we'd like to thank them for their continued support and commitment to the airport. We look forward to welcoming the Lanzarote service back to the airport next summer and to working with Ryanair in promoting their record summer schedule next year".
Meanwhile, passengers travelling from Ireland West Airport on Monday December 12th are asked to check with their airline as weather has disrupted many flights to and from the UK