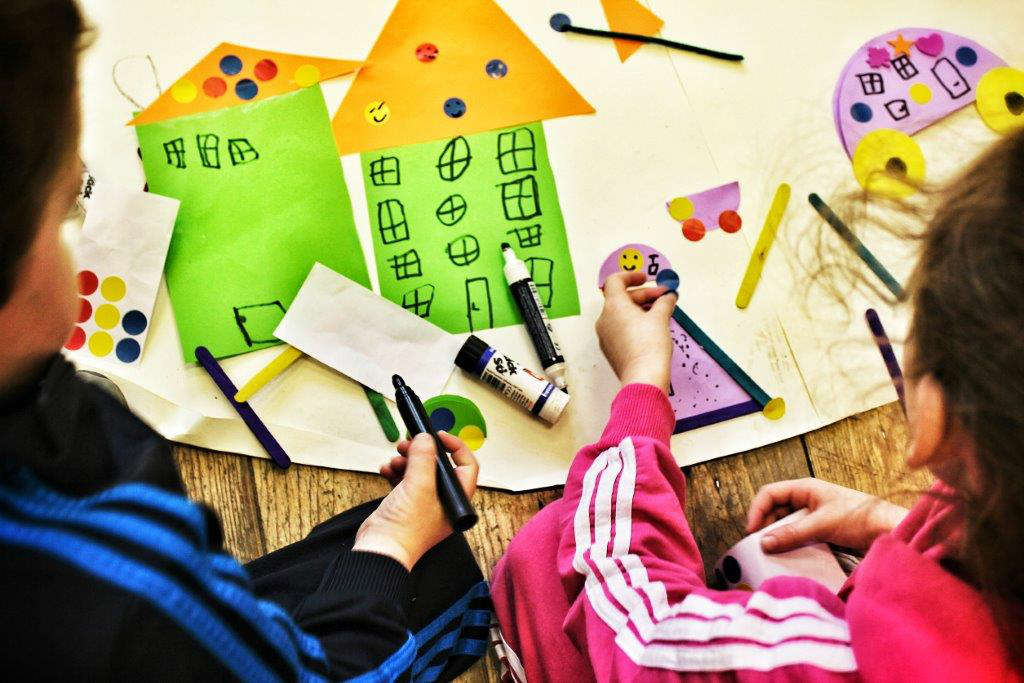 Once again, an exciting range of children's and adults workshops have been organised for Boyle Arts Festival.
 First up, for Children there's Telling Tales with Naomi Draper. Tell your tale and delve into an exciting world of colours and shapes, bringing stories to life from bookmaking to moving image. Throughout one week, explore a range of different techniques including paper folding, collage, puppet making and stop motion animation.Suitable for 4 to 6 year olds and running from Monday 27th July – Friday 31st July, 10am-11.30am in Abbey Community College. Price:  €60 and places are limited. Naomi Draper graduated from NCAD with a Bachelor of Design specialising in glass in 2007. In 2011, she completed a Postgraduate Diploma in Community Arts Education at NCAD.
Back by popular demand isSingskool with Roisín Egan, an exciting workshop action packed with singing & performing, allowing your child to really shine! Build their confidence by learning new musical, vocal & performance skills. Join fully qualified music instructors for a week of creativity and fun and then show off your new skills in a show-stopping performance at the end of the week for your family and friends. This workshop will run from Monday 27th July – Friday 31st July, 2.30pm – 4.30pm in Abbey Community College and is suitable for 7yrs – 14yrs. Places are limited and the price is €60.
On Saturday, July 25thSusan Boyle will lead workshops where you can make and design candles or design a colourful bag or T shirt. This workshop is suitable for children aged 7 years upwards.
For adults, there will be a workshop in singing, conducted by Niamh Parsons who has come to be known as one of the most distinctive voices in Irish music. Born in Dublin, her music loving parents took herself and her sister to the local folk club, where the young girls were exposed to songs and singing from the likes of The Johnstons, Emmet Spice, Danny Doyle and many others. Throughout her career Niamh has performed with a variety of artists, and has appeared at nearly every prestigious Folk Festival on either side of the Atlantic. She has recorded seven albums to date, and for the past 9 years she has been playing in a duet with Ennis based Graham Dunne. This workshop will take place on Thursday July 30th, from 8-9.30pm at The Crescent Bar. €5 Admission includes entry to Singer's Night.

Also worth checking out is 'Writing Better Poems' by author and poet, Gerry Boland. The workshop will examine two poems in minute detail, exploring what it is about these poems that make them stand out, that make them truly memorable?
Participants will be given writing exercises, the aim being to produce a first draft that has promise. Time permitting, a second draft will be worked on: adding, subtracting, fine-tuning, rearranging, even rewriting, if necessary. Some participants will – hopefully! – leave with a new poem of substance! Sat. August 1st at Boyle Enterprise Centre, 11am to 1pm. Admission €10.
John Mulligan, a writer and journalist from Boyle, is the author of three published books, Dancing on the Waves, Following in the Footsteps of the Four Famous Flannerys  and No Place in the Sun.  A sometime lyricist, he co-writes with the legendary Charlie McGettigan, and their published work includes the 'Moone Boy' song. In addition, he contributes features to a number of national newspapers and writes a weekly opinion column for the 'Roscommon Herald'. John will conduct a workshop on 'Flash Fiction and Routes to Publication'. 'Flash Fiction' describes very short stories, typically no more than 300 words long. This workshop offers techniques and tips for Flash Fiction, and the application of these techniques to other areas of writing. The workshop also includes practical advice on routes to publication for aspiring writers.
Saturday August 1st, Boyle Enterprise Centre, 2:15pm to 3:45pm. Admission €10.  
 For full details of all the workshops, please see our Festival programme or go to www.boylearts.com and follow the link to 'workshops' under the 'Festival' heading. Please note that advance booking is required for all workshops.
 The Boyle Arts Festival office, situated next door to Marian's on Bridge Street, will be open from mid July, every day (excluding Sundays) until August 1st. Tel. 071 9663085. For more information, look out for our Festival programme, which will be available very shortly. Or to view our full programme go to www.boylearts.com  Email [email protected] or find us on Facebook and Twitter.
 Boyle Arts Festival is supported by the Arts Council and Fáilte Ireland.