Soccer
Boyle Celtic lose out on penalties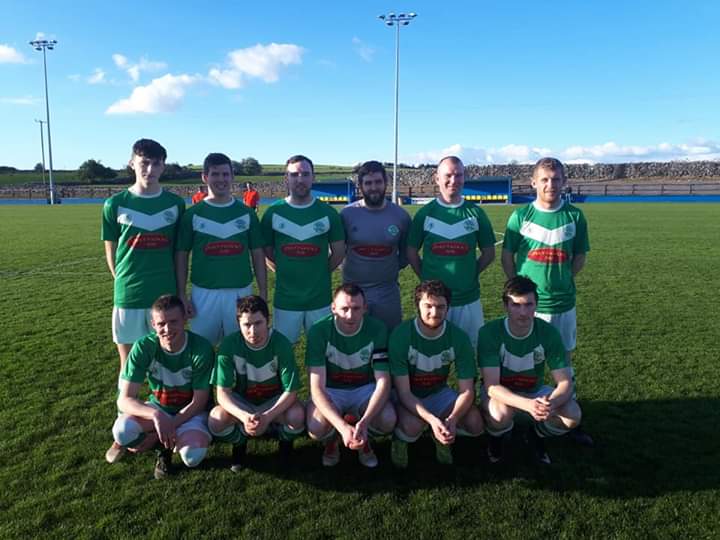 Joe's Bar RDFL Challenge Cup Semi-Final
Boyle Celtic……………………………….3
Moore United…………………………………3 (after extra time)
(Moore United win 7-6 on penalties)
(Ronan Flanagan at RDFL Grounds, Lecarrow)
In a week where there were miracles at Anfield and comebacks in Amsterdam, anyone heading to Lecarrow on Saturday evening last would have felt they had their weeks supply of drama. Like Liverpool and Tottenham Hotspur, both Boyle Celtic and Moore United have had long hard seasons with the end goal of silverware a realistic objective at this stage of the campaign. This time, the pristine venue provided its own contribution. With six goals, two penalties, two red cards, extra time and a penalty shootout, this cup tie had everything. 
The North Roscommon side made an impressive start as John Connolly headed in after just 3 minutes. Only a minute later, Moore must have thought they had a goal of their own as livewire Andy Nevin struck the side netting. Davy Cummins' side came even closer minutes later as Charles Nevin rattled the crossbar from distance.
Celtic Goalkeeper Chris Casey produced a terrific save on nineteen minutes to deny the same player.
United enjoyed a spell of dominance thereafter and their persistence was rewarded as just before the half hour mark, Emmet Kenny's initial header was punched into the air by Casey, only for Shane Petit to head in to the empty net.
A further blow was added to Aaron O'Connor's charges ten minutes later as Andy Nevin finished emphatically to the net.  
This was the wakeup call Celtic needed as they searched for an equaliser. Both Mick Corrigan and Lee McKillen failed to find the target from close range.
With Boyle requiring an equaliser and Moore looking to further their lead, both defences were called into action on numerous occasions during the first fifteen minutes of the second period. Jake McCrann switched to central midfield and straight away tried to make things happen.
Tricky youngster Darren Foley weaved his way through the Moore defence on sixty-nine minutes, but fellow teenager Rory Ryan cleared the danger.
Dessie Carlos' overlapping runs from right full back to the penalty area posed a constant threat for Boyle and his perseverance paid off on 72 minutes as a penalty was given.
Influential playmaker Danny Browne tucked the resulting spot kick away.
Referee Eugene Deering awarded a second spot kick only four minutes later as Andy Nevin got the wrong side of Seán Purcell and the former Sligo Rovers man committed a foul inside the box.
Moore's number 9 emphatically dispatched his 14th goal in all competitions this season to regain the lead.
So, once again Boyle searched for an equaliser. Jake McCrann and half-time substitute Gerard McDermottroe both had efforts, neither of which troubled Moore Goalkeeper Adam McManus.
With the announcement that there would be six additional minutes at the end of the ninety, the sizeable vocal Boyle support urged their team forward once more.
Cue the drama. Right on 93 minutes, an inch perfect delivery from McDermottroe following a foul on Foley on the right wing was met by another second half substitute Shane Battles, sparking wild celebrations both on the pitch and in the newly built John Sherlock Stand from the aforementioned Celtic supporters.
Following the goal, Ronan Keogh was dismissed from the Moore side following a reaction to the awarding of the free kick.
Celtic, in truth were the better side in extra time, however could not make the extra man count.
United's ten men became nine on 104 minutes as Paul Kelly received his marching orders following a second bookable offence.
However, Celtic once again failed to capitalise on the numerical advantage. Moore defended deep and felt comfortable at the idea of a shootout.
And so, it was penalties.
Adam McManus' save from Seán Purcell and Shane Battles' misses proved the difference as Moore headed back to the townland of America with their RDFL Challenge Cup dreams still alive.
BOYLE CELTIC: Chris Casey; Dessie Carlos, Seán Purcell, John Connolly, Jake McCrann; Sean McCormack, Mick Corrigan, Danny Browne; Darren Foley, Lee McKillen, Aaron Calpin.
Subs used: Gerard McDermottroe for McCormack (Half Time), Shane Battles for Calpin (79 mins), Daniel Hughes for Foley (89 mins).
MOORE UNITED: Adam McManus; Reece Moran, Stephen Flynn, Rory Ryan, Shane Petit; Paul Kelly, Ronan Keogh, Emmet Kenny, Johnny Heshion; Charles Nevin, Andy Nevin.
Subs used: Shane Dunning for C. Nevin (89 mins).
Goals: Boyle Celtic – Connolly (3 mins), Browne (Pen 73 mins), Battles (90+3 mins); Moore United – Petit (28 mins), Andy Nevin (38 mins), Andy Nevin (Pen 78 mins).
Penalties: A.Nevin (Moore United) missed (0-0), McDermottroe (Boyle Celtic)
scored (0-1), Moran (Moore United) scored (1-1), Browne (Boyle Celtic)
scored (1-2), Kenny (Moore United) scored (2-2), Corrigan (Boyle Celtic)
scored (2-3), Dunning (Moore United) scored (3-3), Carlos (Boyle Celtic)
scored (3-4), McManus (Moore United) scored (4-4), Purcell (Boyle Celtic)
missed (4-4), Stephen Flynn (Moore United) scored (5-4), McKillen (Boyle Celtic)
scored (5-5), Ryan (Moore United) scored (6-5), Hughes (Boyle Celtic)
scored (6-6). Heshion (Moore United) scored (7-6), Battles (Boyle Celtic)
missed (7-6 Final Score).
Yellow Cards: Boyle Celtic – None; Moore United – Kelly (34 & 104 mins), Kenny (42 mins).
Red Cards: Boyle Celtic – None; Moore United – Keogh (90+4 mins), Kelly (104 mins)
Referee: Eugene Deering (RDFL).