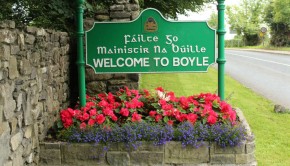 ATTENTION FARMING COMMUNITY
All Farmers use the 'Blue Book' to record their herd and activity on the farm, however with the Department of Agriculture increasingly moving towards online communications and all BPS applications having to be completed online, it's never been more important that the farming community are equipped with digital skills. Úna Bhán Tourism are delivering FREE Roscommon LEADER Partnership Digital Skills Training Courses for the Farming Community (5 x 2hr training course) on various dates in Sept, Oct and Nov, please call Patricia on 071 966 3033 to Register your interest / Book your FREE course. The training programme is funded through the Department of Communications, Climate Action and Environment (DCCAE) and Úna Bhán Tourism are delighted that Boyle Library Services are providing their venue to facilitate the training courses. This unique opportunity to develop digital skills in a fun and easy way (max 10 participants per course) to learn the basic functions for beginners or those eager to improve. The course includes how to set up an email account, send and receive emails / how to search the internet in a safe and secure way / Complete vehicle taxation online instead versus in paper form / Set up your own banking online account and learn how to bank on line. More importantly for the farming community the training will teach how to register your farm on Agfood.ie, which allows you to Record the Birth of a Calf; Complete and Print Farm-to-Farm Movements; & Print your Herd Profile for your Farm Accountant.  Call 071 966 3033 now to BOOK your FREE place.
BOYLE DRUMMING CIRCLE GATHERING
Boyle Drumming Circle plan to hold another gathering in the next few weeks, depending on interest. If interested, please visit Boyle Drumming Circle on Facebook to express intentions.
GATEWAYS' LAUNCH IN KING HOUSE
An exhibition titled 'Gateways' by Fiona McDonald has been launched in King House, Boyle. As construction of the new visual art space at the Roscommon Arts Centre continues, Gateways is one of a series of offsite projects presented across the county. Following a series of visits to sites in the Boyle region, artist Fiona McDonald has produced a series of works exploring live networks and the idea of making these communication/data systems more visible. The launch takes place on September 1st from 3pm where the artist Fiona McDonald will be in conversation with curator Linda Shevlin. It runs until September 27th
MATHS AND BIOLOGY COACHING
Maths and Biology – all levels – also small classes – Boyle. Please contact Ann on 086 877 0252
SPEECH & DRAMA CLASSES
Speech & Drama classes in Convent Primary School, Boyle on Thursday evenings beginning September 28th. Both primary & secondary pupils welcome. Registration will take place on Thursday 21st at 6.00pm. For more information, contact Dwyer School of Speech & Drama on 071 966 6040.
HEALTH & WELLBEING CRAFT FAIR
A Health and Wellbeing Craft Fair will be held in Boyle in September. The Fair will take place in the Spool Factory Event Centre on Sunday September 9th from 11am to 6pm. The event is open to all complementary therapists, crafters, soap makers, crystals etc. If you are unsure if your craft is suitable please message Lucy below. To book your table or for more details contact Lucy through Facebook, email [email protected] or phone 0896038531
CURLEW WALKERS CLUB
The next meeting of the Curlew Walkers will be an Open Weekend on Saturday 22nd Sunday  and Sunday 23rd September with leaders being Philip James 086 3353 000 and Tom Browne 087 2379 632  Meeting on the Crescent, Boyle at 10 am. This will be Climb Grade A/B/C. Please confirm times with leader or website prior to each walk www.walkingboyle.com
COMMUNITY ENHANCEMENT PROGRAMME 2018
The Community Enhancement Programme (CEP) – Men's Sheds offers funding to Men's Sheds who are currently affiliated with the Irish Men's Sheds Association. The Department of Rural and Community Development provide the funding which will be administered through Roscommon LCDC and the Community and Enterprise section of Roscommon County Council. There is €1,449 funding available per Men's Shed in the County and funding will be allocated equally to all Men's Sheds in the county that submit a valid application. Eligible Projects are small scale capital projects only for example, office equipment, project resources, building upgrades, energy efficiency equipment, safety equipment etc. Approval of successful projects will take place in September and all monies must be claimed with receipts no later than November 30th 2018. Full details of the scheme and application form is available on www.roscommoncoco.ie or by contacting the Community and Enterprise Section of Roscommon County Council on 09066 37235 or via email [email protected] Closing date for receipt of completed application forms is 31st August, 2018. Procurement must be submitted with the application form.
BOYLE GOLF CLUB RESULTS
The men's' competition on Sunday the 2nd of September was the King Cup which was won this year by David Wynne with 40 points, just shading out Gerry O'Dowd's 39. Sean Heslin won the prize for best gross score and Tom Kearney came 3rd with 37 points. This competition was kindly sponsored by Tonni's Takeaway, Elphin Street. The club thanks Valentin and Iosif for their support. Interclub -Boyle went out of the Connacht Shield to a strong Ballina team. Despite winning all the home matches, the team were unable to get the much sought after away win. The next interclub competition on the horizon is the newly established "County Cup", which will be competed for by the 7 golf clubs in Co Roscommon in Athlone Golf Club in the next few weeks.
COURTYARD MARKET
The Market takes place every Saturday in the Grounds of King House, Boyle from 10am until 2pm. If you would like to enjoy the best locally grown fresh and organic produce, then a trip to the Courtyard Market should be on your agenda. There is a wide range of seasonal produce,
CV & OFFICE SERVICES
Are you looking for a new job? Are you having difficulty putting together your CV? Would you like some help? Then why not call into the Úna Bhán office in the grounds of King House, Boyle, where we will be delighted to give you any help, advice or information we can. A good CV could make all the difference in getting your job application through to the interview stage. We have a template and sheet of helpful tips to guide you through the process. We will also type your CV if you cannot do this yourself. Or you may just want to call in for a chat about your CV. All information will be treated in the strictest of confidence. For more details, contact Úna Bhán Tourism on 071 9663033. We also offer office services such as Photo Copying, Scanning, Laminating, Typing, Faxing, Binding and Printing.