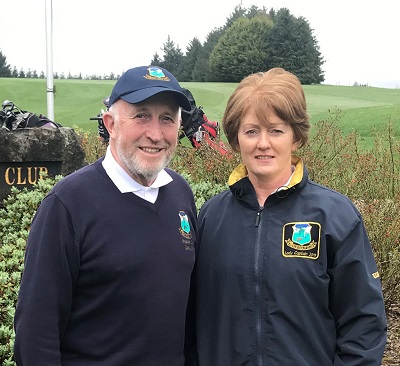 CAPTAINS DRIVE IN – Congratulations to our captains Seamus Gallagher and Regina McLoughlin for getting the golfing year off to a successful start with the traditional "Drive In" which was held on Sunday the 24th of February. There was a great turnout to support our captains and to take part in the scramble competition that followed. The winning team on the day was that of Terry Canning, Susan O'Mahoney and Willie Tiernan. 2nd place went to Karl Keenan, Mary O'Hara, Gerry O'Dowd and John Cryan and 3rd place to Lorcan Egan, Lionel Lynn and Conor Hamill.
CLUB DRAW- The 2 rounds of the club draw for January and February were held after the Drive In and the winners were as follows : January – 1st – Mary McKeon, 2nd Brendan and Susan Gaffney, 3rd Sean Heslin. February – 1st – Pat Conroy 2nd – Vincent and Moira Egan, 3rd – Denis and Mary O 'Donnell. 1st prize is 70 euro, 2nd and 3rd get 40 euro apiece.

FIXTURES – The mens' competition on Sunday the 3rd of March will be an 18 hole Scotch Foursomes.