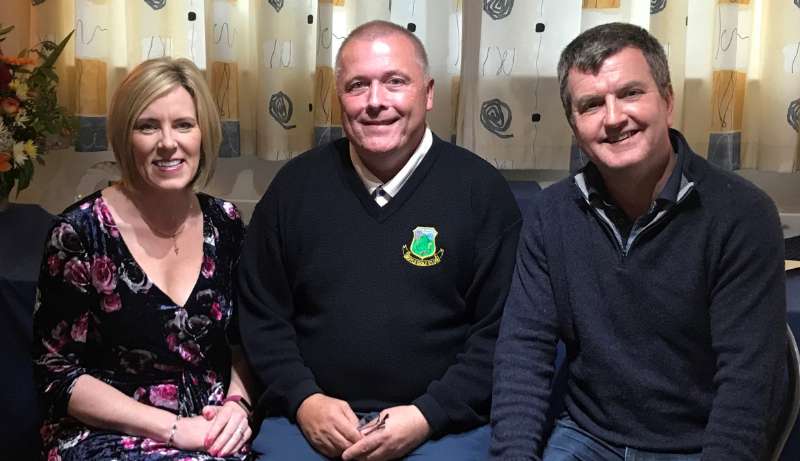 PRESIDENTS PRIZE – It had looked very doubtful during the week whether the Presidents Prize would be played this weekend at all, given the uncertainty about the the conditions after recent unseasonal rainfall. Thankfully it proceeded as planned and conditions turned out to be more benign overhead than underfoot for most of the day. It turned out to be a battle of the low handicappers with Brendan Gaffney just pipping Patrick Egan into 2nd. It was fortunate for Brendan that he came first in the Presidents Prize as his wife Susan had claimed 1st in the respective ladies event. Paul Brown took 3rd in his first "major" and Lorcan Egan won the prize for best gross score.
Other prizes – 18 nett – Pat Brogan, past President – Charlie O'Donnell, Senior – Michael Reid, Category 0-13 – Cian Smith, 14-20 – Gerry Carety, 21-28 – Mark Whelan, First Nine – Michael Rush, Second Nine – Gary Carty, Third Nine – Liam Mullaney.
PRESIDENTS SCRAMBLE – The winners of the Presidents Scramble played on Friday the 7th were the team of Adrian King, Regina McLoughlin and Tish Perry. In 2nd were Jim Mooney, Therese O'Daly and Michael Reid with 3rd place going to Michael Rush, Lorcan Egan and Fiona Keenan.
INTERCLUBS – Our Mixed Foursomes team continued their "streak" with a win over close neighbors Carrick On Shannon during the week. Well done especially to the two Boyle teams who had good away wins despite coming under some close scrutiny in Carrick On Shannon. Boyle now play Ballina Golf Club in a Zone Final on Wednesday the 19th of June. Coincidentally our mens' Pierce Purcell also face Ballina Golf Club in a zone final next Saturday.

Brendan Gaffney and Susan O'Mahoney, respective winners of Presidents Prize to the Men and Ladies 2019 with President Sean Heslin