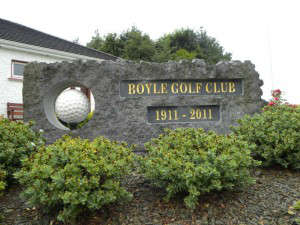 Last Sunday's 18 Hole was won by Seamus Gallagher 41pts, 2nd Paddy McLoughlin 40pts, Gross Lorcan Egan, 3rd Jonathan Egan. The Holmpatrick Cup will be re-arranged in May.
Crumlin Classic results from Easter Weekend. Winners Charlie O'Donnell, Liam Whyte & Michael Gilmartin 87pts, 2nd Willie Tiernan, Tom Kearney & Sean McLoughlin 86pts, 3rd Gary Carty, Adrian King & Michael Gilmartin 85pts. Thanks to all who took part. The winners go on the represent the club in the Connaught final.
Competitions this week are the Mens Twelve Hole on Thursday and an 18 Hole Stroke, Golfer of the Year on Sunday. Both competitions can be booked on line. The Friday evening scrambles will re-start this Friday April 17th. Dates for your diary are the voucher competition on Sunday April 26th and the club fundraiser on the May Bank Holiday weekend. A Quiz and curry nite will take place on the Friday May 1st.   Food will be from 8.00 with Quiz at 9.00. Cost will be €15 per person entry to the scramble. All support appreciated. Thanks to Susan & Brendan for organising.
Thanks to all who volunteered with the pole forking and re-sanding of the bunkers last week
Commiserations to Sean Heslin and Jimmy Dwyer who lost their Daily Mail last week to Bundoran. In foursomes news Terry Bright & Pat Conroy, Charlie O'Donnell & Ted Hestor, Sean Heslin & Sean McLoughlin and Liam Whyte & Gerry O'Hara are through to the next round.
The February and March draws took place in the clubhouse last Sunday evening. February winners Tom Kearney €70, Jonathan Egan & Ted Hestor €40 each. March Winners Liam Whyte €70, Claire & John Cryan and Michael Gilmartin €40 each. Thanks to all who took part and good luck in the next draw.
The club extends sympathy to the Carty Family on the death of Padraig Kenny, brother of Pauline Carty. Rest in Peace