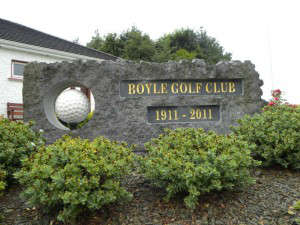 There was a large turnout for the Captain's Drive In last Sunday with Captains Michael Rush and Sandra McCrann opening the 2015 Golfing Year.  The Scramble that followed was won by Gary Carty, Carmel Conlon & Michael Simon, 2nd Jim Mooney, Ruth Hogg & Michael Reid, 3rd Brendan Gaffney, Claire Cryan & Carmel McGarry. Special well done to the winners who eagled the fifth.
At the presentation, Captain Michael Rush, on behalf of the Lady Captain Sandra McCrann and himself, thanked everyone for attending and congratulated the prize-winners. He thanked all the volunteers for their great work in the club and thanked Mary for her excellent catering. The house committee was thanked for organising the bar. Special thanks also to Pat Conroy for organising the new swipe system for the computer.
The Spring League draw details are on the notice board. First round to be played between  Wednesday March 4th and Sunday 8th. First round format is a scramble, 2nd round is a rumble and 3rd round is a shambles. Full details on noticeboard. The weekly nine hole can be played Monday – Sunday during the Spring League. Tee times for both the Spring League and the nine hole can be booked through the new BRS System.
Details of the club foursomes matchplay trophy competition are on the noticeboard. Draw will take place on March 23rd. Games commence from March 30th. Teams will consist of a low and high handicap. The reigning champions Sean Heslin and Sean McLoughlin will be "vigorously" defending their title.
The Mens, Ladies and Management Committee meetings will take place this Wednesday evening.
The January draw took place in the clubhouse last Sunday evening. Jackpot winner was James Shivnan €70, runners up James Cooke and Martin Higgins €40 Thanks to all who took part and good luck in the next draw.
In other news well done Sean Heslin who made his "modelling debut" at the Boyle Expo fashion show in the Sports Complex and thanks to all who visited the Golf Club stand at the Sports and Community event in King House on Saturday.