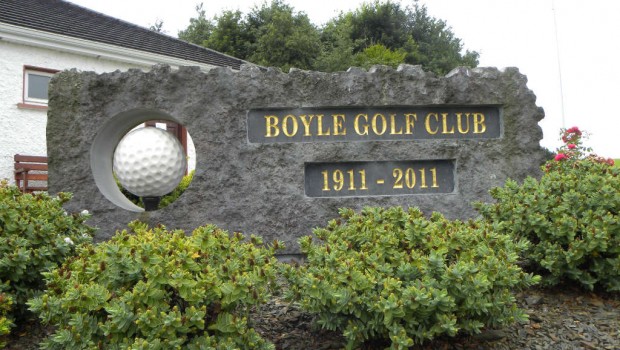 PRESIDENTS PRIZE – There is often debate within the club as to which competitions are considered to be our "majors" but there is no such debate about the status of next Sundays competition, the "President's Prize". This years Mens' President is Gerry O'Hara, the club wishes Gerry the best of luck for his day. There will be a "Presidents Scramble" next Friday evening, all members are welcome. The format next Sunday for the Presidents Prize itself will be the traditional one of 18 Hole Strokeplay followed by a 9 hole playoff that evening for the the top scorers from the 18 hole competition. The presentation will take place immediately afterwards in the clubhouse. We hope to have a Volunteers evening during the coming week to tidy up some parts of the course.
RESULTS – Bart Moran Cup – played on the 27th and 28th of May – 1st Owen Garvin 65 nett, 2nd Pat Conroy 65, Best Gross Lee McKillen, 3rd Michael Reid 67.
Fourball Betterball Bank Holiday Weekend – 1st Mark Whelan and Jonathan Egan 48 points, 2nd Lee McKillen and Noel McKenna 47, 3rd Tony Garvin and Owen Garvin 45.
INDIVIDUAL GOLF LESSONS – Golf professional Enda Murphy will be available for one more Saturday directly after the Junior Lessons at 1pm for individual lessons if anyone wishes to book one. He can be contacted on (085) 273 3730.
LADIES "IMPROVERS" – This group continues on Wednesday evenings.
MEMBERSHIP FEES – Membership fees are now overdue. The club reserves the right not to present prizes after this date to those whose memberships are not current. A full list of the fees and payment arrangements are available on boylegolfclub.com.
If paying by bank transfer, our IBAN is IE59 BOFI 905328 22439700 , please put your name in the narrative so we know who has paid.
JUNIOR GOLF – Just a reminder that our Junior Lessons are continuing for the next few weeks. The 8th and 9th holes will be closed from 12-1 on the Saturdays that the lessons are taking place so please ensure you have played through the 8th tee by 12 noon if playing on a Saturday morning.
INTERCLUBS – Hard luck to Brendan Gaffney's "9 hole Clubs" team who were beaten by Ballaghaderreen on Bank Holiday Monday, best of luck to Ballaghaderreen Golf Club in the next round.