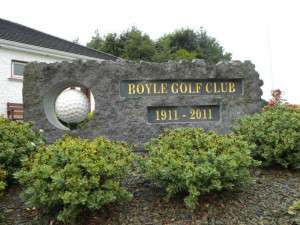 Last Sunday's Captains Prize to the Ladies was cancelled due to the poor weather and is re-scheduled for this Tuesday July 28th.
Thursday night's Mens Competition was won by Pat Conroy 28pts, 2nd Lorcan Egan 27pts, 3rd Michael Gilmartin 27pts. Fridays Scramble was won by Marie Gallagher, Liam Whyte & John McGuinn, 2nd Carmel Keenan, Lionel Lynn & Charlie O'Donnell, 3rd Pat Conroy, Michael Simon & Seamus Gallagher. Saturdays Arts Festival Open was won by John McGuinn (40pts), 2nd Paddy McLoughlin (40pts), Gross Owen Garvin, 3rd Michael Simon (39pts)
Thanks to all who took part and thanks to the Arts Festival Committee for holding the event.
Next Sunday is the Captains Prize and the club sends best wishes to Captain Michael Rush for a great weekend. Booking is available on line and presentation of prizes will take place Sunday evening.
Other competitions this week are a Par 3 competition on Thursday, Captains Scramble on Friday, draw 6.30 and an nine hole re-entry on bank holiday Monday.
Please note the course will be closed from 6.00pm on Saturday to prepare for Sunday.
There are volunteer evenings on this Tuesday and Wednesday at 6.30. Tasks include divot filling, tidying car park and course tidy up. All support appreciated.
Golf lessons continue this Wednesday July 29th 6.30-7.30pm with PGA Professional Philip Murphy. The lessons continue each Wednesday until August 19th and are open to all golfers.  Cost per lesson is €5.00 per person. Private lessons can be arranged by appointment. To book a place or for more information call 086 0682116.
Club umbrellas will be available for purchase at a cost of €25. Please put your name on club noticeboard. Thanks to Jonathan Egan for this initiative.
In King Harmon news good luck to all the quarter finalists, the full line up is Seamus Gallagher V Shane O'Dowd, Charlie O'Donnell V Niall Kearney, Lionel Lynn V Patrick Egan and Willie Tiernan V Brendan Gaffney.
Presentation of July prizes and club draw takes place on Thursday evening after the Par three Competition st per lesson is €5.00 per person.