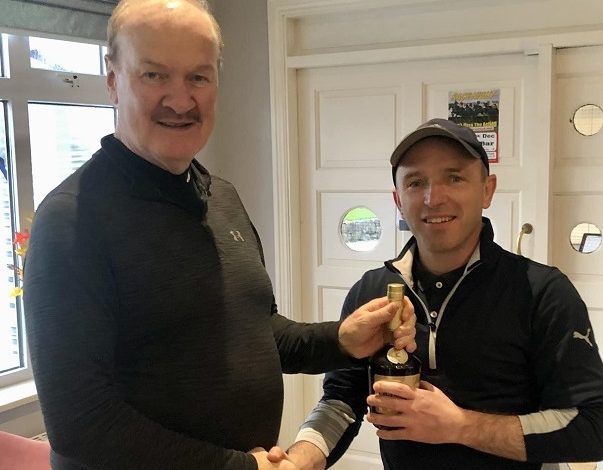 KING HARMON CUP MATCHPLAY  –  The quarter final matches for the King Harmon Cup will be contested by : Michael McHale vs Lee McKillen, Adam Daly vs Michael Simon, Terry Canning vs  Lochlainn Conboy and Ross Andrew vs Martin Sweeney. This round of matches has to be completed by the 14th of November.
FIXTURES – The Men's competition for the weekend of the 12th and 13th will be an 18 hole Stableford.
AGM DATES – The AGM of the Mens section will be held on next Sunday November the 13th at 5 pm in the clubhouse. All male members are both welcome and encouraged to attend.
CLUB OUTING – Due to Covid restrictions the club had not held an away outing for the past couple of years, and it was greatly missed. The outing for 2022 was held on the weekend of the 5th and 6th of November, Saturday's golf taking place in Claremorris Golf Club and Sunday's in Ballyhaunis. Light refreshments were availed of in Claremorris on the Saturday night where the skill levels displayed playing cards proved that golf is not the only game that includes a mixture of amateurs and professionals. The weekend was a great success and thanks are due to our Captain Gabriel Lavin and Competition Secretary Lorcan Egan for organising. Thanks also to Michael Simon for his sponsorship contribution.
Pictured is Niall O'Donohoe receiving his prize for winning Saturdays golf from Gabriel Lavin.