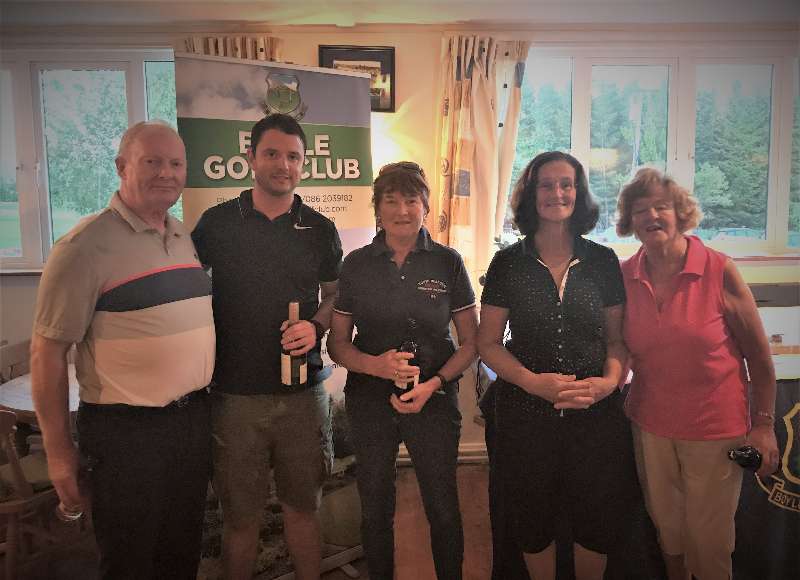 MENS' MIDWEEK COMPETITION- Terry Canning was the winner of the mens' 12 hole Stableford held on Thursday the 12th of July with a great score of 29 points, just pipping Pat Conroy's 28. Padraig O'Connell was last man on the podium with 26 points. There were 3 "twos" recorded with the spoils being shared by Terry Canning, Conor Hamill and Jonathan Egan.

LADY CAPTAINS SCRAMBLE – Marie Hanmore-Cawley's Lady Captain's Weekend kicked off with a scramble format competition on Friday the 13th of July. The date proved a lucky one for Jimmy Dwyer, Killian Egan , Tish Perry and Joyce Boles who were the winners , beating Tadhg Egan, Mary Lombard and Eamonn Perry in to second place. Several other prizes were presented to the ladies the same evening for recent competitions, including a presentation to Mandy Toolan to congratulate her for a recent "hole in one".
FIXTURES – The biggest event of the year for the male golfers of the club is almost upon us with the Captains Prize for 2018 taking place on Sunday the 29th of July. The format will be an 18 hole Strokeplay earlier in the day, with the best scorers qualifying for a 9 hole play-off later that evening. It is the highlight of many peoples golfing year to "make the cut" and qualify for the play-off, but to win the Captain's Prize itself is considered a career highlight. This years captain is Tyrone exile and Tulsk resident, Terry Canning, who has been a loyal club member for several years, making his mark on several levels including as an inter-club player and captain, as a volunteer on works on the course and most recently as committee member and club captain. Online booking for this competition is essential.
(Pic 1 shows Jimmy Dwyer, Killian Egan, Tish Perry and Joyce Boles, winners of Lady Captain Marie Hanmore-Cawley's Scramble. Pic 2 shows Marie Hanmore Cawley congratulating Mandy Toolan on her recent "hole in one")