News
Boyle man's donation to SHOUT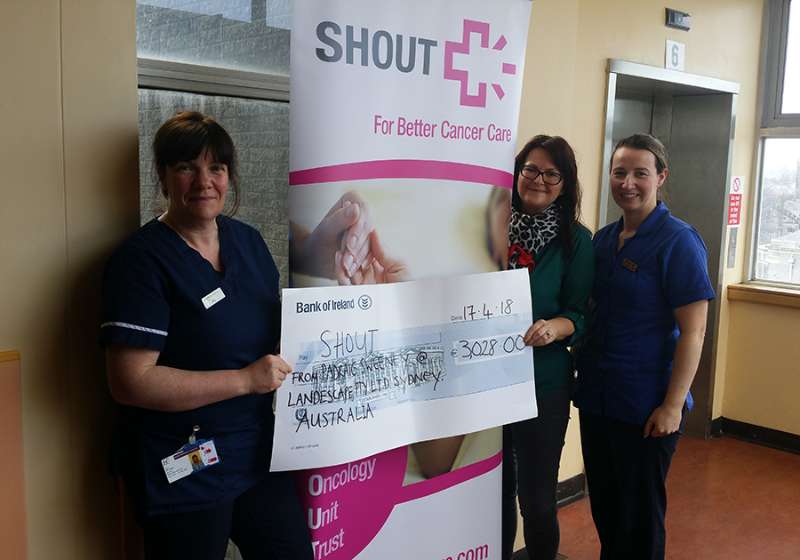 Boyle native, Padraig Sweeney (formerly of Plunkett Ave., Boyle), currently residing in Sydney, Australia is a director of a successful landscaping business LandEscape Pty Ltd.
In the past Padraig has generously supported Boyle G.A.A. and now he has very kindly made a donation of five thousand dollars (AUD) to Sligo based 'SHOUT Cancer Care', an organisation that supports patients and their families through their cancer journey by funding psychology support, complementary therapies such as reflexology as well as funding transport to University Hospital Galway for patients attending radiotherapy treatment.
Cancer has touched us all in one way or another, Padraig has lost members of his family including his beloved Mum Patricia.
He wants to donate money to SHOUTcancercare.com because it matters to those he knows and cares about.
Noelle Higgins McDonagh made the cheque presentation on behalf of Padraig to staff members of SHOUT Sligo Oncology Unit Sligo Hospital.
Noelle Higgins McDonagh presents a cheque for €3,028 to SHOUT Cancer Care on behalf of Boyle native Padraig Sweeney of LandEscape Pty Ltd., Sydney, Australia.