News
Boyle man's new song about the Show Band era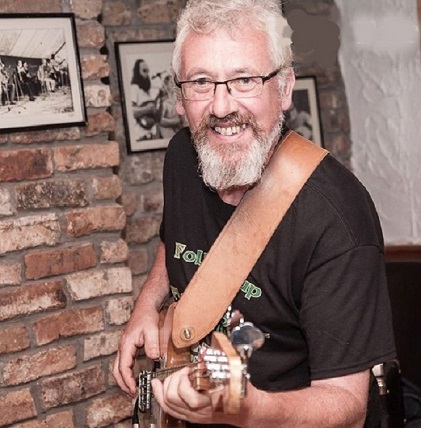 A Boyle native has written a new song looking back on the nostalgic show-band era.
'Castlerea' is written and sung by Boyle native and Sligo resident Sean Nicholson and is due to be released on an album later this year.
Writing recently in the Sligo Champion and Tuam Herald, journalist Tom Gilmore said:
"The showbands, over 600 of them, caused a seismic change in the music scene, and in the social and cultural history of the Ireland of the 1960s. They were pioneers of a new sound for a generation. Now a Pioneering, in all senses of the word, showband, The Premier Aces, is remembered in a new song titled 'Castlerea' by Boyle-born but Sligo-based singer-songwriter Sean Nicholson".
"Sean's song, has already got the thumbs up from Saw Doctors founder member and ex-Sligo resident, Padraig Stevens and from the musician known as 'The Man with the Golden Trumpet', Johnny Carroll".
"It was at a music session, pre-COVID19, in Moran's Bar near Sean's home in, Grange, Sligo, beside where Padraig Stevens lived as a child, that he first heard the song and suggested that Sean release it".
"Sean says he was prompted to write the song "a few years ago" after hearing a radio programme discussing a possible reunion festival involving people who grew up during the showband era of the 60s".
"A few words about how you could leave the doors unlocked back then prompted me to pen this song. The programme also mentioned young people playing football in the fair green, or the village green, and dancing to the showbands which all made it into the song".
"As I often played here in the local pub in Grange before COVID19 alongside a young local lad, Luke Devaney, who has a degree in music production, it was when he was home from college that he recorded me in his studio," says Sean.
"While Sean played in pub bands in England, where he lived for many years, and did demo tapes there, this will be his debut recording to be released next week. It will also be available later this year as a track on his debut album. But as a present for his 62nd birthday his young neighbour Luke recorded Sean's song in his studio as a birthday gift and played all the instruments on it".
"We took almost a week to do it as we wanted to get in all the showband sounds correct. The synthesised brass sounds like the real thing, Luke's lead guitar playing is excellent and there is an organ sound like what was a hallmark of Big Tom and The Mainliners records".
"While the song refers to Castlerea, where The Premier Aces were based, it could be about any rural town in Ireland during the era of the showbands".
"The lyrics also mention how a young DJ named Paul Claffey, now CEO of Mid-West Radio, played records at local 'hops' in those swinging sixties nights in Castlerea and 'kept the youngsters out of the pubs".
"Sadly, most of the original members of Castlerea's Premier Aces have died. But one member who is still gigging and making records in his mid-70s is Johnny Carroll, famous as The Man with the Golden Trumpet".
"I was only about 13 or 14 and in short pants when I joined the band. The reason my parents allowed me to do so was because all the members were members of the Pioneer Total Abstinence Association or The Pioneers".
"Originally the band was called The Pioneer Aces. But a letter from the Pioneer Association's head office told them they could not use that name. So, it was changed to The Premier Aces," laughs Johnny. He says he loves Sean's new song as it encompasses the social history of Ireland's 60s and is reflective of the showband sounds of that era."