Events
Boyle Musical Society 'Thank You'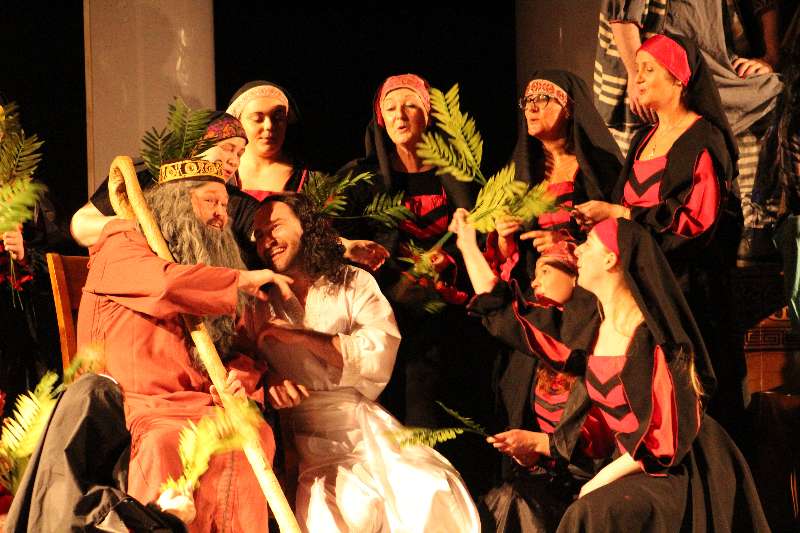 With no actual curtain to fall, we just had to let the colours fade into darkness following our final performance of 'Joseph and the Amazing Technicolor Dreamcoat' in St. Joseph's Church, on November 25th.
What started out as a dream earlier this year, finally became a spectacular reality over three nights and we would like to thank all those, who opened every door for us over the last six months, all who were involved in the show in any way and all who came from near and far to see it.
We, the Boyle Musical Society committee would like to extend a very sincere thanks to the business people and community of Boyle for responding so generously yet again, both by subscribing to the funding of the show and by their presence in such large numbers at every performance. To those who contributed to the show, either financially or otherwise and were too late for inclusion in our programme and to all who sponsored prizes – a very special 'Thank You'. We urge everybody to support all our local businesses, over the festive season.
We were delighted to have been given the unique opportunity to stage 'Joseph…' in the beautiful environment of St. Joseph's Church and we would like to thank Canon Gerry, Fr. Tito and the Parish Pastoral Council for facilitating this. We acknowledge the inconvenience that may have been caused to both the Clergy and the Parishioners, because of changes to Mass times and locations and we truly appreciate their accommodating us.
Thanks to Padraig Harrington for all his help and also to John Cummins with his team of stewards, who gave us long hours both indoors and outdoors, to ensure the safety of all.
We would especially like to thank our brilliant, talented cast of 93, including the 54 children who joined us this year and especially all those who travelled to join us. We are very grateful to all the parents, who supervised the children, during both rehearsals and the performances.
Thanks also to our production team, the orchestra, stage crew, set builders, our light and sound teams, our costume, make-up and hair teams, the front of house team, ticket and programme sellers, ushers, tea ladies, those who donated props, and especially those who helped dismantle the set and have the Church ready for Sunday's services. We are especially grateful to all our sponsors, patrons, subscribers and associates. We are also indebted to the St. Joseph's Hall committee and Abbey Community College for rehearsal facilities. Special thanks also to all at the Resource Centre for allowing us to use it for our make-up and hospitality area and to the Boyle Arts Festival committee, for additional booking facilities.
Publicity is vital for any production and we thank all the local publications, Roscommon Herald, Roscommon People, Leitrim Observer, Sligo Champion, Boyle Parish Newsletter and all who made room for our posters and signs. We would especially like to thank realboyle.com, boyletoday.com, Charlie McGettigan of Shannonside FM, Áedín Gormley of RTÉ Lyric FM and all at Irish Home and Abroad Television. We are very grateful to Sean O'Dowd, Brian Nerney, Benny Morgan and Mary Regan for their beautiful photographs and also to Joe O'Donnell and Pat Gannon, for managing our billboards.
Like any local voluntary organisation, we've had our ups and downs over the years but it has always been our intention to showcase the abundance of talent that we have here and to bring a little love, light, magic and music to everybody. Early next year, the task of choosing a new show will have to be overcome. Following that, the Society will hope to be included when the nominees for the 2018 AIMS awards are announced.  By September, rehearsals will be underway and by mid November, the cast will once again be waiting in the wings, ready to raise the curtain on their 35th annual production.
Brendan McGee,
PRO
Boyle Musical Society.