Events
Boyle Musical Society's 'Guys and Dolls' opens Wednesday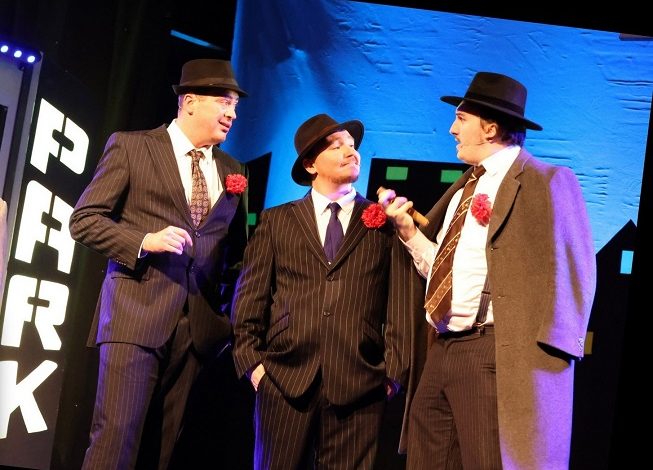 'Guys and Dolls' is coming to town this week and the stage is set for the entertainment highlight of the year in Boyle! It seems like forever but after three long years, Boyle Musical Society is back!
In the twelve weeks since rehearsals began, the cast, committee, crew and production team have spent every moment ensuring that this will be an outstanding show! So with the lights set, the sound balanced and the orchestra tuned up, the cast are ready to unveil what promises to be another Boyle Musical Society spectacular!
'Guys and Dolls' is a musical romantic comedy involving the unlikeliest of Manhattan pairings: a high-rolling gambler and a puritanical missionary, a showgirl dreaming of the straight-and-narrow and a crap game manager who is anything but.
Set in 1930s Manhattan, 'Guys and Dolls' tells the story of Nathan Detroit (played by Darragh Beirne) and his efforts to find new life for his illegal, but notorious, crap shooting game. Three small-time gamblers, Nicely-Nicely Johnson (played by Diarmuid Beirne), Benny Southstreet (Matt Burke), and Rusty Charlie (Gavin Ward) argue over which horse will win a big race. The band members of the Save-a-Soul Mission, led by the pious and beautiful Sarah Brown (Karen Gordon), call for these sinners to repent when they hear that Nicely and Benny's employer Nathan, runs illegal floating crap games.
When their trusty venue is found out by the police, led by Lt. Brannigan (Cathal Tivnan), Nathan has to find a new home for his game quickly – but he doesn't have the money to secure it. Sky Masterson (played by Tom Nolan), is a high-rolling gambler willing to take on any honest bet with a high enough reward attached. Nathan bets Sky that he can't take the "doll" of Nathan's choosing to Havana, Cuba, with him on a date. When Sky agrees to the bet, Nathan chooses uptight Evangelist Sister Sarah Brown, head of Broadway's Save-a-Soul Mission.
Sky thinks he's been duped, but he's in for even more of a surprise when his efforts to woo Sarah are so successful that he falls in love with her himself! Nathan's fiancée of 14 years, Adelaide (Janet Feeney), kicks him out when she finds out that is still running the crap game. Will Nathan win back Adelaide's heart, and will Sarah fall for Sky? The answers to these questions and many more will be revealed when 'Guys and Dolls' hits the stage on Wednesday night!
'Guys and Dolls' takes us from the bustle of Times Square to the dance clubs of Havana to the underground of New York City as it demonstrates the great lengths to which a guy will go when he truly falls in love with a "doll." The show features some of Frank Loesser's most memorable tunes, including the hilarious 'Adelaide's Lament,' the romantic 'I've Never Been in Love Before,' the exuberant 'If I Were a Bell,' and the classics, 'Luck Be a Lady' and 'Sit Down, You're Rockin' The Boat'.
A vibrant local cast of 31, including many familiar and new faces, have been working on this show since September. Other principal parts will be played by Catherine Bolger (Agatha), Enda Regan (Harry The Horse), Deborah Kehoe (General Matilda Cartwright), Skyler O'Flaherty (Big Jule), John Reynolds (Arvide Abernathy), and Jason Kenny (Master of Ceremonies).
Joining the principal cast on stage are Ceara Conlon, Conor White, Sinéad McCarthy, Kate Connelly, Gordon Ryan, Laurina Brennan, Emma Kilkenny, Martin Hanmore, Rebecca Wynne, Ailbhe Conlon, Kerry Rawson, Molly May, Emily Rooney, Anne Carmody, Fiona Drury, Samantha Gilsenan and Emily McEvoy.
BMS is fortunate to have two very talented ladies making up the production team. Turning in her ninth year as Director is Vivienne Moran. Vivienne is continuously directing shows for schools, running workshops and if all of that isn't enough… she is also taking on her usual role as choreographer for Boyle Musical Society! Her warm personality, creative flair and mentoring strengths have allowed both cast and crew to flourish in their roles again this year.
Our Musical Director Anne Kielty has an abundance of experience in musical theatre and choral work and she brings her teaching experience and love of music to Boyle Musical Society, where she works tirelessly with soloists and the chorus to produce the best vocals and harmonies for the stage. Along with being the orchestra pianist, Anne is also rehearsal pianist and chorus mistress.
'Guys and Dolls' is a show for all the family and it will open in St. Joseph's Hall on this Wednesday Nov. 23rd and continue until Saturday Nov. 26th at 8pm nightly. Tickets are priced at €20 with concessions available for the Wednesday and Thursday performances.
Tickets are available from 10am to 4pm the ÚnaBhán Craft Shop beside King House.
Tickets can also be booked by telephone on 071 9663033 during booking office hours only. Credit and debit cards accepted. Tickets will also be available at the venue, each night but do not leave it until the last minute!
For further information please visit www.boylemusicalsociety.com or follow Boyle Musical Society on Facebook.
(Main photograph by Benny Morgan. Text by Brendan McGee)