Events
Book launch Saturday in Boyle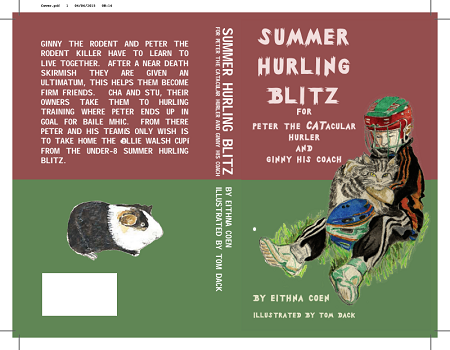 A Boyle native will launch her first published book in her home town this Saturday
"Summer Hurling Blitz for Peter the Catacular Hurler & Ginny his Coach" is written by Eithna Coen who now lives in County Kilkenny.
This children's chapter book tells the story of how Peter, a rodent killer, cat hurler becomes friends with Ginny, a hurling loving guinea pig and how he ends up in goal for the Baile Mhic U-8 hurling team, competing for the Ollie Walsh Cup. The story reflects a typical Irish hurling summer for Peter and Ginny and their owners, 7 & 8 year old Cha & Stu.
The book is suitable for children aged 5-11 years.
The author born in Boyle, now lives in Thomastown, Co Kilkenny with her two children and husband John. This is her first self published book.
The book signing will take place on Saturday December 5th in First Chapter, Super Valu Centre at 4.30pm
The book is also available direct from [email protected] or International Education Service, (01) 621 0310, Fax: (01) 621 0188 Email [email protected] Also available in libraries throughout Kilkenny and Dublin.
Facebook page 'Summer Hurling Blitz for Peter Catacular Hurler & Ginny his Coach'