News
Boyle student's project wins bursary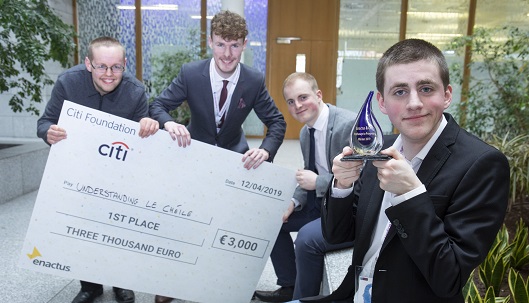 A Boyle student was among a group of NUI students who recently were awarded a bursary of €3,000 to make their idea for a better Ireland a reality at the Pathways to Progress event.
Their winning project, 'Understanding Le Chéile', seeks to raise awareness of autism in schools and businesses around Ireland.
Understanding Le Chéile, presented by NUI Galway students, Ronan Lavin (Boyle) and Seán Croke (Galway), was successful in receiving the top prize of €3,000 worth of seed funding. Understanding Le Chéile empowers autistic people to deliver interactive and informative workshops that raise awareness of autism and promote inclusion in schools and businesses around Ireland.
The Pathways to Progress initiative calls on third-level students to develop an idea and apply to the programme. Successful projects receive seed funding, intensive training, mentoring and guidance from Citi volunteers and Enactus Ireland staff. Enactus is an international, not-for-profit organisation which aims to empower students across the world to build social, entrepreneurial projects that tackle universal social and economic issues.
Nine projects from Dublin City University, Maynooth University, National University of Ireland Galway, Technological University Dublin, Trinity College Dublin and University of Limerick were presented at the event. The winning entry was chosen by an esteemed panel of Citi judges – Ray Kirwan, Kaitlin Lemmo, David Thompson and Opeyemi Olomo.
Ronan Lavin, Corporate Leader at Understanding Le Chéile, and a full-time NUI Galway student, said: "With 'Understanding Le Chéile', we continue to strive towards making our goals a reality in ensuring equal treatment for everyone in academic and corporate settings regardless of their physical, intellectual or emotional abilities. Our hope is to pave a way for businesses and schools to encourage, build and nurture environments founded on inclusion, collaboration and respect." 
On this year's finalists, Ray Kirwan, Senior Compliance Officer from Citi, said:
"Citi is delighted to have hosted the final Dragon's Den pitch, as part of our Pathways to Progress programme with Enactus. The judging panel were all really impressed with the quality of the projects and the work the teams put into them. While the panel found it difficult to select one winning project, Understanding Le Chéile stood out for the impact and empowerment for all involved as well as how it has developed over the last 12 months, with more opportunities to grow in the future."
Understanding Le Chéile, alongside another 'start-up' NUI Galway project called Home Helpings, will be competing nationally on May 30th, 2019 in the Charted Accountants of Ireland Headquarters for the Enactus National Competition where NUI Galway will be fighting for the place to represent Ireland at the Enactus World Cup 2019 in San Jose, California hosted by KPMG and Unilever.
To follow Understanding Le Chéile 's journey and learn more about their workshops, visit: www.UnderstandingLeCheile.ie and all relevant social media platforms.
For more information about Enactus Ireland and the Pathways to Progress initiative visit  www.enactus.ie.