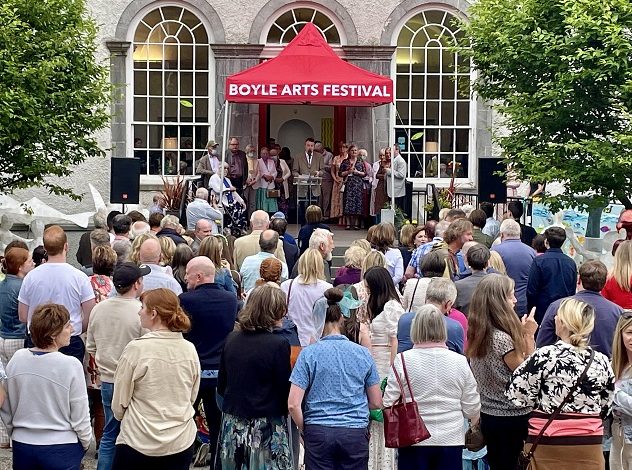 This year's Boyle Arts Festival and Visual Art Exhibition will be officially opened by Academy Award nominated actor Brendan Gleeson in King House on Thursday, July 20th at 8pm.
Brendan, who has a keen interest in visual art, Irish music and folklore has played leading roles in films like 'The Banshees of Inisherin', 'Calvary' and 'In Bruges'. He is of course a frequent visitor to the area and we are delighted that he accepted our invitation to officially open BAF 2023.
(By Brendan McGee)
This year's Visual Art exhibition has been selected by leading Irish artist Sinéad Ní Mhaonaigh, who brings a new energy and approach to the Festival.
Building on the knowledge and interests of such a senior figure in Irish Art Work, the exhibition has a strong emphasis on painting. The theme 'Connections' will be manifested through a pride in place and landscape, ideas, diverse artistic approaches and by linking newer generations of emerging artists with more established senior artists.
The exhibition will feature close to 100 works from artists across Ireland. Largely focused on painting, the exhibition includes sculptural works by Eileen McDonagh, Cathy Carman, Kate Oram and Martin Lyttle. The excitement and energy of the exhibition also focuses on painting by leading lights such as Mick O'Dea, Gwen O'Dowd, Alice Maher, Julie Merriman, Mark Garry and Dr Abigail O'Brien, PRHA, who will show works with some of Ireland's best-emerging talents in such as Eve O'Callaghan, Sian Costello, Stephine Deady, David Smith and Eleanor McCaughey.
Year after year the exhibition has grown in reputation and strength and is considered one of the leading summer exhibitions in Ireland. It will highlight some of the wonderful talents based in the region and artists of international standing such as Ciara O'Toole, Andy Parsons, Naomi Draper, Tinka Bechert, Vanya Lambrecht Ward. The exhibition is a wonderful opportunity to see and buy new work by some of Ireland's leading artists.
During the Festival, there will be opportunities to take part in guided tours of the Exhibition with the curator and artist Sinéad Ní Mhaonaigh, curators Anna Spearman, Sarah Searson and Laura Mahon along with curator and producer Linda Shevlin. Please see our full programme for times and details of these tours. Booking is essential as places are limited.
This exhibition is open to the public until August 7th. The Festival's Visual arts strand also includes the Boyle Open Exhibition, solo exhibitions, group shows and an Art Trail taking in shop windows and venues across the town. It also incorporates the Boyle Sculpture Trail in the Pleasure Grounds, with works commissioned by Roscommon County Council.
The hugely popular Open Exhibition provides a forum for artists who would otherwise find few opportunities to display their work and attracts entrants from all over Ireland. The art is always of an exceptionally high standard and the exhibition provides an important showcase of local talent. Come and see this year's stunning collection from 10am to 5pm every day during the Festival, in our new home, the former Royal Hotel building on Bridge Street.
Here in Boyle, we have the finest collection of contemporary Irish art which spans over 30 years of the Festival's life. The Boyle collection punches high above its weight and is one of the foremost of its kind in the country. It is because of both the vision and determination of the late Fergus Ahern that the Boyle Arts Festival, as well as the Civic Collection of Art, endures so well today. In grateful recognition of this, the annual Fergus Ahern award for merit will be awarded to an artist with work in the Main Exhibition. Previous winners are Colin Davidson, Miseon Lee and John Rainey. This year's winner will be announced at the opening.
Please note that entrance to all exhibitions is free.
For more information, see our programmes and flyers. The Festival office at The Royal on Bridge St. will be open every day (excluding Sundays) from July 13th until July 29th. For more information, please visit www.boylearts.com Tel. 089 9722477. Email inf[email protected] or follow us on Facebook, Twitter and Instagram.
Boyle Arts Festival is supported by The Arts Council, Local Sponsors, Roscommon Co. Council and Fáilte Ireland. BAF is also supported by the Roscommon Co. Council Creative Ireland Programme 2023.