Soccer
Celtic can do no "Mor" in Dundalk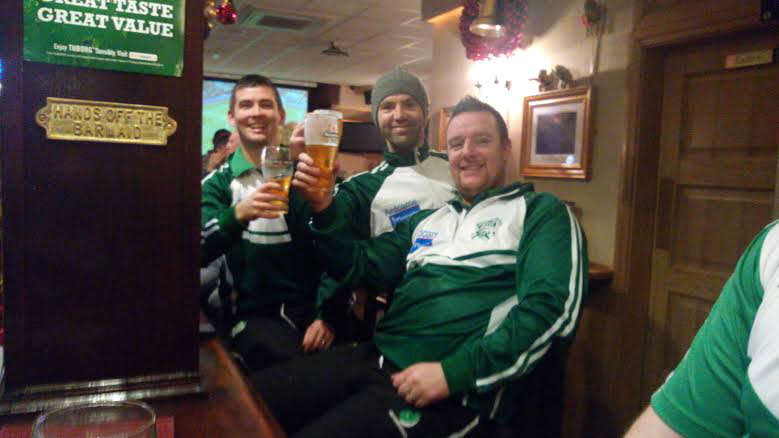 An early start for some saw us depart Boyle on Sunday last at 8.45am on another leg of the FAI Junior Cup adventure. Muirhevna Mór of Dundalk today's opponents in the last 64. Over 800 teams enter this competition and to reach the latter stages is quite an achievement for any junior club. The final 4 get into the FAI Cup.
(By Eddie Conroy)
After a swift journey to Dundalk, we stopped for lunch at the Fairways Hotel. Legs were stretched, thirsts were quenched (supporters only) and at 12.30 we made our way to the ground. This proved a bit of a quest as the estate that contains the pitch, holds 1500 houses.  We got there and were very well received by our hosts.
As the game kicked off, more support arrived from Boyle via Dublin. The temperature can't have been much above freezing and the wind chill made it feel Baltic. The players were unaffected and started well if a little scrappy. The referee gave a few home town decisions early and I thought in the first 20 minutes, that he would be a major factor. On the 20 minute mark, Niall Brennan raced clear and was blatantly pulled back. Most observers assumed a red card would follow as the other defenders were miles away. It was only yellow. This was going to be a long day I thought.
On 30 minutes, the deadlock was broken as Shane Battles pounced on a terrible mistake by the Muirhevna full-back and rifled home. Boyle Celtic relaxed and the football started to flow. James Carty began to pirouette like Nijinsky (not the horse) and his quick feet opened up a chance for himself but it was just wide. Carty had to wait until the 42nd minute, when Roddy and Brennan broke from defending a corner to release Carty who rounded the keeper and stroked it home.
 2 nil. Half-time.
With barely a minute gone after the restart, it was 3 nil. Battles again in the right place to punish a Muirhevna error. Shane Battles has developed a real eye for goals recently. With Brennan and Carty also firing them in, Boyle are a serious threat to any team going forward. The solid platform created by classy defending and brilliant reading of the game, which is provided by John Connolly, is complimented by the extremely hard working Conboy and McKillen in the engine of midfield. Both have good vision and confidence on the ball. All of the above were involved in the 4th goal, finished with some aplomb by Carty. What a hit son, what a hit.
Celtic fell asleep to allow Muirhevna a consolation but this proved to merely awaken Boyle from their slumber. McKillen released Brennan to make it 5 one and then Brennan was stopped in the box WWE style to gain a penalty which Battles finished for his hat-trick and 6-1. The keeper got a red card which was really the last action of the game.
Much celebration followed afterwards, both in the Muirhevna Mór local and back in Boyle. Somewhere along the line, news came through that Boyle would face St.Michaels of Tipperary in the next round. St. Michaels won the cup last year but they face Boyle Celtic in their home patch, with a huge home support and the pressure will be on them as champions. It is a mouth watering fixture for Boyle. Hopefully the town will get behind our lads and shout them over the line. The game is fixed for Sunday 11th January, time to be confirmed.