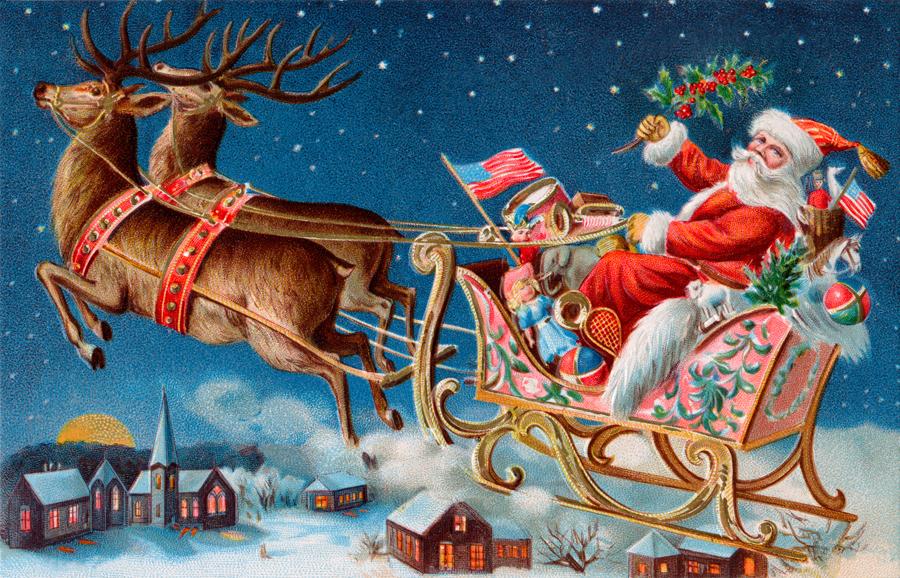 In the concluding installment of this republished three part series, Boyle man Brian Nerney reminisces about his memories of  Christmas.
Once Santa stops coming to a house, many say Christmas is never the same again. But I don't agree. In our house Santa arrives every year, and will hopefully continue to do so for as long as both Helen and I are around and our children make the journey back to their home town.
When I came up with the idea of asking people to submit their Christmas memories for this website, it got me thinking about Santa, my own youth, growing up in a house with three sisters and a busy mother.
One lasting memory from the late 1960's /70's, that always crosses my mind at this time of the year, concerned our near neighbour, the late Jimmy O'Dowd (father of local men Shane and Michael). Mr Dowd, as he was known in our house, always had a story to tell. And when he arrived at the back door one cold Christmas morning, he told a story that mesmerised us all and has since been passed on to the next generation of children in our families. The previous night Mr Dowd had a cow calving and had to make has way down to his cow shed after midnight. As he walked through the field on what was a quiet, frosty night, he said he heard the sound of bells up on the road. He moved off the well worn path that he had made through years of walking the fields, to see what was happening. And there, on the top of our roof, was none other than Santa Claus himself along with his reindeers and a sledge full of presents. Mr Dowd said he even got a big fright himself and in our young eyes, he was not a man frightened too easily. We were all gobsmacked with his story. Mr Dowd said he was calling to see if we got all our presents and had we heard anything. And of course we had heard something and it was all adding up now. The noise we heard was definitely Santa and Mr Dowd had now confirmed our previous night's fears. Every Christmas Eve, I still wander down to our front gate and think of this story and the excitement it brought annually as we recalled how a man we knew had seen Santa Claus in the flesh.
As we waited the arrival of the big man each year, many people traditionally called to our house. Michael and Nellie O'Callaghan from Greatmeadow and their daughter Christine visited every Christmas Eve as did our uncle Padraig Cox who always had an interesting yarn or two to tell, as he sipped a "small Jameson".
Christmas Eve would never be the same in the house without the wait for Tom Murray to arrive to move the television from the kitchen to the "good sitting room". Mam always gave everyone a drink that called at Christmas (indeed she always gave everyone a drink that called at any time of the year) and as she poured a drop for Tom she qualified it each year with the warning "Will you be carefull now that you don't fall out of the attic" as Tom headed up into the dark unknown to switch the aerial connections.
One Christmas Eve in particular sticks in my mind. Michael and Nellie arrived, but the look on their faces was not one that could be associated with the joys of Christmas time. They had come to relay sad news to my mother. Young Martin Doyle who worked in the 'Herald had been killed in a farm accident. That evening I saw my mother shed tears, tears that I had only ever witnessed with her each New Years Eve since my father died. As a young child, I didn't think anyone cried at Christmas. New Year was different.
And so the years moved on and the wheel soon turned the full circle as the time came to enjoy the fun of Christmas with our own three children, who themselves now have a story to tell of an event that took place on Christmas Eve not that long ago. As darkness descended one Christmas Eve on our traditional trip to Sooey to see family, what should jump across the road in front of us just outside Riverstown, but a herd of deer. Many had antlers and looked just like Rudolph himself. The kids hearts nearly stopped (as did mine when I thought of the damage they could have done to the car). There was no question in their young minds but that it was definitely Rudolph and the other reindeers making their way to collect Santa. And who knows perhaps it really is in Riverstown where Santas reindeers spend their time getting prepared for their big journey. Needless to say our visit to Sooey that year was a quick one,  just in case the "reindeers" made it back to Boyle before we did!