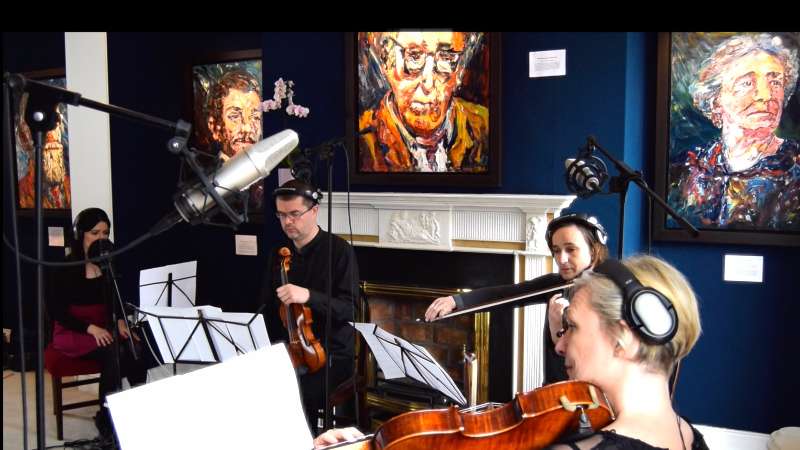 Classical and Traditional Music has always been one of the cornerstones on which the Boyle Arts Festival is firmly established and the 2017 Festival, which will open on July 20th, will showcase some of the finest classical and traditional musicians around.
(By Brendan McGee)
This year, audiences can look forward to appearances from some of the country's finest performers in both the Classical and Traditional music genres.
The Classical music programme will begin with a lunchtime harp and flute recital by family duo, Tara Viscardi & Maedbh O'Rourke in King House on Friday July 21st while Saturday July 22nd will see a lunchtime performance by baritone Matthew Mannion, a native of California and former member of Boyle Musical Society. Matthew will be joined by mezzo soprano Niamh St. John and both will be accompanied by pianist Adam McDonagh. All are members of the DIT Conservatory of music.
New Airs is a classical fusion and crossover group, combining classical strings with synthesised electronica. Their repertoire includes many rock and pop classics and you can catch their debut performance in Boyle in King House on July 22nd at 7pm.
The newly formed St. Joseph's Church Choir will perform during the regular 11:30pm service in St. Joseph's Church on Sunday July 23rd while at 8pm on the same evening, the Church of Ireland will be the venue for Anúna. Formed in 1987, this vocal ensemble has created a singular voice for Irish culture that has travelled across the globe and their performance will undoubtedly be one of the highlights of BAF 2017.
July 25th will see a lunchtime performance in King House by baritone David Scott who will be accompanied by pianist Mary Scarlett. Later the same evening, pianist Michael McHale will perform music by Beethoven, Chopin and Mussorgsky. Michael has developed a busy international career as a solo and concerto recitalist and performs with many leading international orchestras. Following Michael's performance, you can relocate to Whistler's bar, for a sublime evening of classical guitar, with Pat Coldrick.
Saxophone duo Robert Finegan and Andrew Mullen will be accompanied by Mary Scarlett during a lunchtime concert in King House on July 26th and we are truly delighted to welcome back to Boyle, soprano Regina Nathan, who will perform in the Church of Ireland on July 27th. Regina, who needs no introduction, will be accompanied by pianist Mairead Hanley.
Dutch pianist, Jimmy Goeijenbier will make a lunchtime appearance in King House on July 28th performing works by Beethoven, Debussy, Bruyéres and Franck. Later on the same evening , The Celtic Tenors will make a very special appearance in the Church of Ireland. Matthew Gilsenan, James Nelson and Daryl Simpson have performed as the Celtic Tenors for over fifteen years. They offer more than beautiful voices and musical knowledge. Comfortable in all genres from classical and folk to Irish and pop, they bring their audience on a real musical voyage. A relaxing and wonderful evening's entertainment is guaranteed.
The Irish Guitar Quartet is comprised of Ireland's most talented and versatile classical guitarists and is one of Ireland's premier instrumental ensembles. Jerry Creedon, David Keating, Colin McLean and Aengus Kirakowski have garnered international acclaim as soloists. Each member contributes towards the creation of exciting, dynamic and engaging musical performance. You can catch them in King House on July 29th.
The Classical programme will conclude on Sunday July 30th with a performance by Ilse Lubbers accompanied by pianist Anne Kielty during the 11:30 service in St. Joseph's Church and later the same evening, a concert by the renowned Inishowen Gospel Choir in the same venue.
Award winning singer and bard, Finbar MaGee will be joined by fiddler Breige Quinn and together they will rev up the Traditional music programme, with a session in Wynne's bar on July 21st.
Boyle native Maggie Carty is the daughter of the legendary John Carty and she was brought up in a musical family, spanning generations. She released her debut recording 'Settle Out of Court' in 2016 and BAF are delighted to have her as part of this year's Festival, where she will be joined by Sligo guitarist, Shane McGowan during a lunchtime concert in King House on July 24th.
On July 27th the always popular Singer's Night will take place in Dodd's Crescent bar. This event will be preceded by a workshop in singing, conducted by Antaine Ó' Faracháin. Antain has produced four TV series for TG4 and is an experienced teacher at singing workshops. The workshop starts at 8pm.
Hailing from Kilkenny, The Rafter Family will present an afternoon of beautiful Irish airs in King house on July 29th. Their concert will feature a sensational blend of operatic drama and celebrated Irish works.
The Trad. programme will conclude with a fantastic late night concert by Martin Hayes & Declan Power in King House on July 29th. Martin is one of the most extraordinary talents to emerge in the world of Irish traditional music in recent times and Declan is one of the masters of the Uilleann pipes. Early booking is essential.
For health and safety reasons, please note that there are capacity limits at most of our venues and in the event of sold out performances, only ticket holders will be admitted.
Booking is advisable for all events and this can be done at the Festival office, next door to Marian's on Bridge St. Drop in to pick up a programme or to find out about the other exciting events. The office will be open every day (excluding Sundays) from Monday July 10th until July 29th. Online booking is available for selected events at www.eventbrite.com For more information, see our full programme or go to www.boylearts.com Tel. 071 9663085. Email [email protected] or follow us on Facebook,
Boyle Arts Festival acknowledges the support of the Arts Council, Fáilte Ireland, Local businesses and Roscommon Co. Council.