News
Unveiling ceremony in King House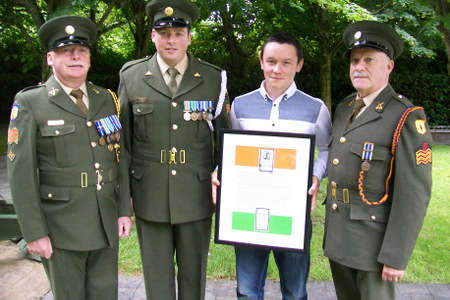 Photographed are Sgt Lou Tormey, Cpl James Tormey, Ethan Beirne and QM Christopher Tormey  in the grounds of King House after the unveiling ceremony on Saturday arranged by the Connaught Rangers Association in memory of James and Joseph Tormey old IRA.
James served under age in the Connaught Rangers and fought during the Gallipoli campaign before eventually his age was discovered and was discharged.
Joseph was interred in Ballykinlar camp in Co.Down during the War of Independence.
He was shot dead by a sentry for no apparent reason in 1921 Three weeks later Joseph, while commanding a flying column in the Athlone area and still suffering from the tragic death of his brother was shot dead by a Black and Tan patrol in a hastily set ambush.
The James Daly room displays the memorial which the family unveiled and later congratulated and thanked King house staff and the Connaught Rangers Association for research done and the making of the memorial.
Bernie Flaherty played a lament while the people gathered listened to William Beirne explain the thinking behind the memorials creation.