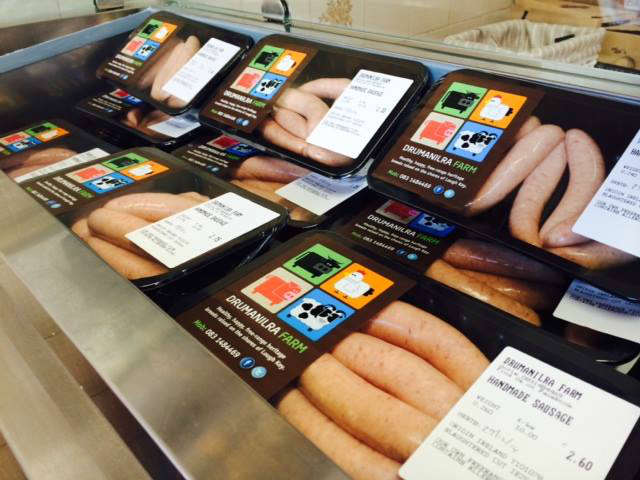 "Drumanilra Farm is delighted to announce that we are now recruiting for a full time Craft Butcher to work with us to develop our unique organic own-farmed product and to run our Boyle based farm shop. This is an opportunity for someone passionate about food, and experienced in high-end craft butchery, to grow with the role and to be truly integral to the expansion of our small business. Generous salary commensurate with experience, together with profit share and/or business performance related bonus.
We are a, soon to be, fully organic accredited mixed farm (organic status due to be achieved in May 2015), based on the shores of Lough Key near Boyle, County Roscommon. We farm traditional heritage breeds outdoors on grass including Dexter Cattle, Tamworth and Berkshire Pigs, Jacob Sheep, free range Hens, Geese & Turkeys.
We are passionate about the animals we rear and the meat we produce. We are looking for a highly qualified craft Butcher who has experience working in and/or managing a craft butcher shop. We are looking for someone experienced in traditional butchery skills, dry cure, sausage making and artisan value-added products. We are looking for someone with a keen interest and proven track record in beautifully presented food, quality control, "above and beyond" customer service and food safety.
The successful applicant will work closely with us. However, they will take full responsibility for growing our market locally and the retailing of our farm product via the existing Boyle based farm shop, local farmers' markets and through online sales. Longer term, we have plans to develop a one acre site in Boyle, which we hope will be home to a more extensive farm shop, organic butchery, bakery, café and gardens. The successful applicant will be responsible for the development of the butchery element of this business.
Applicants should be fully qualified and have:
• A minimum of 3 years butcher shop/counter management experience;
• Demonstrable commitment to a high level of customer service;
• Demonstrable skill in preparing and presenting product to a high standard;
• Experience in sausage making and traditional meat curing;
• Full and up to date HACCP and food safety qualifications;
• Experience in successfully achieving targets and KPI's;
• An ability to manage a small part-time team as the business grows;
• Enthusiasm, initiative and self-reliance.
Please apply with CV and short summary of why you think you would be suited to the role to Liam & Justina Gavin, [email protected] Closing date for applications 20th February 2015. Further information about us and the farm can be found at www.facebook.com/drumanilra "