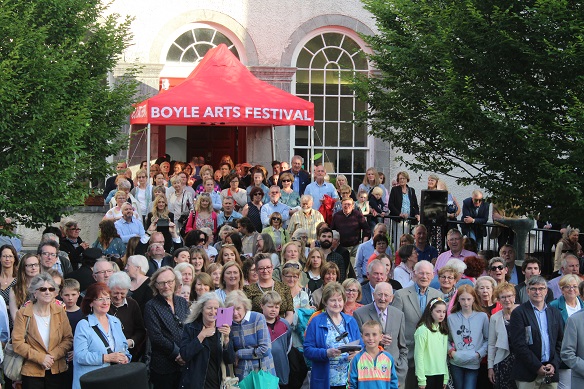 Don't miss the chance to take part in the Boyle Arts festival opening night parade on July 21st!
We are inviting children to take part in any one the Boyle Arts Festival Children's workshops in early July, to create a parade for the opening of the Arts Festival.
Whether you're interested in Dance, Music or Art, these four day workshops have something for everyone and are booking out fast.
Join the spectacle as we meander through Boyle town, gathering in King House to celebrate the start of Boyle Arts Festival 2022 on the evening of Thursday July 14th.
To book a place for these workshops please find more details on the Boyle Arts Festival Website: www.boylearts.com Simply click on the Workshops tab.
July 5th – 8th
Craft with Hullabaloo in Abbey Community College. Make your costume to take part in the parade.
10:30 – 12:30 daily ages 7+
13:30 – 15:30 daily ages 10+
Cost €50 pp for Craft only

July 11th – 14th
Dance with Victoria Walker in Abbey Community College. Learn, create and perform dance routines for the parade.
10:00 – 10:45 daily ages 4+ Cost €40pp
11:30 – 13:00 daily ages 8+ Cost €50pp
13:15 – 15:45 daily ages 12+ Cost €70pp
*10% discount for those attending both art and dance, please mention when booking

July 11th – 14th
Free hour of Percussion daily with Music Generation Roscommon. Join 'We Drum Ireland' to learn a mix of percussion styles which will be played for the launch parade of Boyle Arts Festival.
Free hour daily from 11-12pm all ages welcome from 6 -18 years
Location TBC