News
Digital award for St. Joseph's BNS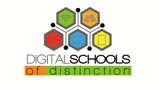 The boys at St. Josephs BNS in Boyle have been working hard all year enhancing their ICT skills and their hard work has paid off as they have been awarded the Digital Schools of Distinction Award.
Digital Schools of Distinction is a flagship programme which aims to promote, recognise and encourage excellence in the use of technology in primary schools.
Schools that successfully complete the 3 step programme  receive a nationally recognised Digital School of Distinction Award, accredited by the Dept. of Education and we are delighted with the news that the boys along with their teachers have reached this level of excellence.