News
Dutch Ambassador praises community partnership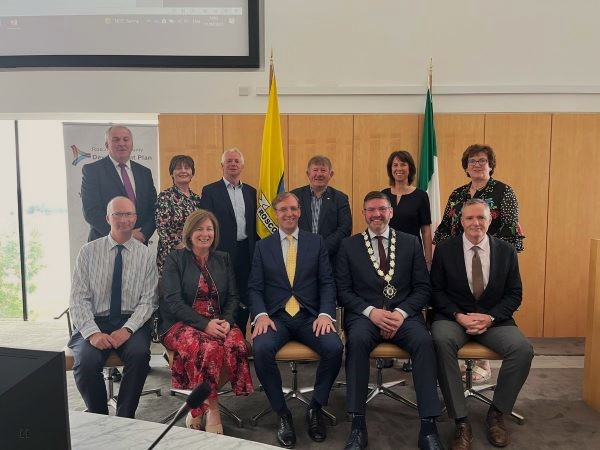 The Dutch Ambassador has highlighted the key role which community involvement can play in helping to make climate action a shared success in Roscommon and elsewhere.
On his first official visit to the county, Ambassador Adriaan Palm met with members of the Roscommon County Council and congratulated the new Cathaoirleach Councillor John Keogh on his recent election.
As part of the trip, the Ambassador toured Roscommon town and then visited the Elphin Windmill. There, he met with the committee responsible for the facility, while also meeting the Dutch thatcher Marika Leen who recently carried out work on the roof. He then travelled north and participated in a guided tour of the Arigna Mining Experience.
At a time when the climate and energy transition is at the forefront of political discussions in both Ireland and the Netherlands, Ambassador Palm said that Roscommon's experience contained lessons for policymakers in both countries.
"All across Europe, we are witnessing these enormous efforts to change how we power and fuel our societies in order to deliver a future which is both economically prosperous and ecologically sustainable.
"This can sometimes be viewed as a series of choices imposing severe costs, but the lesson I would draw from Roscommon's experience is that community involvement and effective partnerships can ensure that climate action can bring about real benefits as well," Palm said.
Palm noted the efforts of those members of the community who sought to restore and maintain the Elphin Windmill, as well as the successful efforts which were made to develop the former mines in Arigna into a facility which has attracted 400,000 visitors since it opened.
Neither project, he pointed out, would have been successful without large-scale buy-in from people in the local areas: including those in northern Roscommon who had previously relied heavily on coal mining to create employment.
The Roscommon County Development Plan states that there is potential to more than double the amount of renewable energy currently being generated in Roscommon, where the Arigna Wind Farm is making a major contribution.
Ambassador Palm said that Roscommon is well-placed to continue to build on the good work done by so many.
"Three hundred years ago, Roscommon was the first county in Ireland to harness the power of wind. And as Dutch we know how important windmills were to protect our people and help our development. Now, those foundations are being built upon to lay the groundwork for a brighter and cleaner tomorrow.
"Wind farms, both onshore and offshore, play a key role for tomorrow's energy supply. They make us greener and reduce our energy dependency."
"This will be a future where the preservation of natural habitats and the development of natural resources are cornerstones of community development," he concluded.