News
€18,000 grant towards works in Rockingham Stable Yard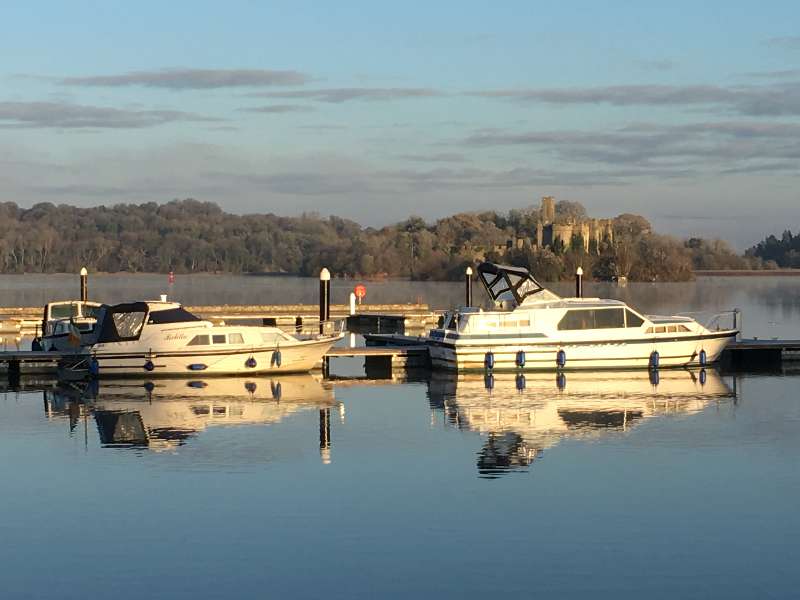 Rockingham Stable Yard has been awarded €18,000 to refurbish and repair 10 original 1830 sash windows and to fabricate 3 no. 6 sash windows to replace c. 1970 timber casement windows.
The grants were announced by Minister of State for Heritage and Electoral Reform, Malcolm Noonan, TD and cover 95 heritage projects across the country that will benefit from a total of €4.5m under this year's Historic Structures Fund (HSF).
In addition to supporting owners and custodians of historic and protected structures to safeguard and maintain their properties, this funding will also provide a welcome boost to local construction and heritage trades by facilitating works with a total value of over €8m and leveraging an estimated 11,250 days' labour, including in specialist heritage roles such as thatching and stonework.
The announcement follows that of €4.5m in funding under the Department's other built heritage grant scheme, the Built Heritage Investment Scheme, by Minister Noonan earlier this month.
Through grants of between €15,000 and €200,000, the HSF assists owners of heritage structures – including those on the local authorities' Record of Protected Structures and those in Architectural Conservation Areas – to meet their obligations to care for their properties. The scheme provides assistance to a wide range of heritage structures – this year's HSF includes awards to castles, churches, mills, bridges, shopfronts, and thatch structures, as well as to private houses. 
In cooperation with the Department of Department of Tourism, Culture, Arts, Gaeltacht, Sport and Media, a grant has also been offered under the Irish-language shopfront stream.
Locally Deputy Frank Feighan has welcomed funding to projects under Sligo, Roscommon and Leitrim Co Councils for a umber of projects across the counties.
"Through this investment, the Government continues to celebrate the value and diversity of our built heritage which thankfully we have a lot off locally across the region. Much of the work required will also support traditional building skills. These actions also continue to help this government on their commitments to built heritage under Heritage Ireland 2030" concluded Deputy Feighan.
The full list for Roscommon, Sligo and Leitrim is as follows:
Roscommon County Council

Castlerea House East Gate Lodge

Repairs to gate lodge: removing vegetation, re-slating roof, repairs to roof barge removing cement mortar and installing lead, replace galvanized gutter with cast ogee gutters, new lead overlay to pediment, structural repairs to chimney, removing sand and cement pointing and repointing with lime mortar.

€38,000.00

Roscommon County Council

Clonalis House, Castlerea

Carry out joinery repairs to a 14 no. sash windows principally on the first floor. Urgent roof repair works are to prevent further deterioration of historic building fabric.

€45,000.00

Roscommon County Council

Rockingham Stable Yard, Boyle

Refurbish and repair 10 original 1830 sash windows





Fabricate 3 no. 6 sash windows to replace c. 1970 timber casement windows

€18,000.00

Sligo County Council 

Annaghmore House, Collooney

Replace defective bitumen flat roof with lead sheet, finished with flat roof.





Re-instate lead weathered parapet and parapet gutter detail.





Fit new cast iron downpipes.

€31,500.00

Sligo County Council 

Ballysumaghan Church, Ballintogher

Re-constructing the displaced octagonal chimney on west transept; inserting a lead dpc under the gable barge stones; re-slating the west transept roof.

€16,000.00

Sligo County Council 

Pollexfen House, Wine St, Sligo

Scaffolding, renewal of roof covering, renewal of defective leadwork, removal of vegetation, installation of structural ties, consolidation of masonry, chimneys & reinstatement of clayware pots.

€37,500.00

Sligo County Council 

Sligo Cemetery Gate Lodge, Commons

Repair and renewal of the building envelope including windows and doors, and associated pointing around windows using haired lime mortar. Complete internal structural repairs and install the suspended floors at ground and first floor level. 

€37,500.00

Leitrim County Council

Lurganboy Chapel of Ease, Barrackpark, Manorhamilton

Replace the corrugated roof sheeting. Replace flashings at the window heads as necessary. Repair and paint all windows. Repair cill as necessary.

€21,000.00

Leitrim County Council

Tullaghan House, Duncarby, Tullaghan

Emergency works to the chimney




systems, roof covering and structure.

€37,500.00

*Sligo County Council

Thatch Cottage, Carrownagleragh, Coolaney

Complete the renewal of traditional thatch

€10,000.00
*Stream two awards