News
€20,000 in funding for Lough Key to Boyle cyclepath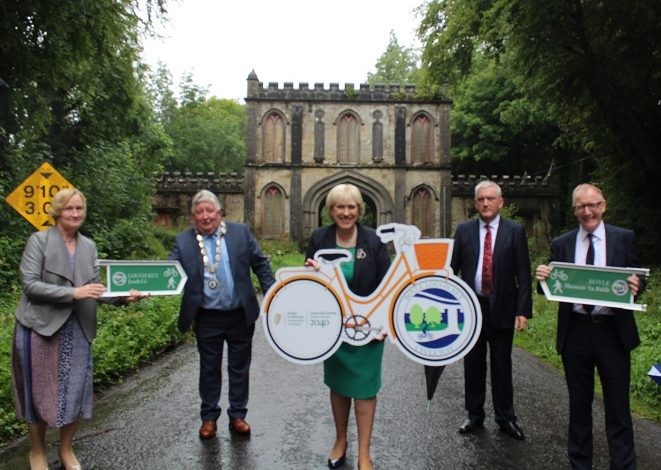 The Lough Key to Boyle cyclepath has been awarded €20,000 this morning for enhancement of the path.
In addition, Una Bhan Tourism in Boyle has been awarded €15,127 for upgrade marketing material for promotion and marketing of the Miners Way and Historical Trail Region.
The funding was announced Monday morning by Minister for Community and Rural Development Heather Humphreys.
In total €103, 408 was awarded to County Roscommon which also includes €20,000 for a video marketing campaign and €20,000 for visitor monitoring equipment.
The Minister for State at the Department of Health and local Fine Gael T.D. Frank Feighan has welcomed the announcement.
The funding has been allocated to support 6 rural recreation trails and projects across Co Roscommon.
Minister Feighan said that "the funding announced today by my Fine Gael colleague Minister Heather Humphreys will ensure that our amazing walkways and trails in Co Roscommon will continue to be maintained to very good condition, they will be improved and expanded and that they will continue to be advertised to an national and international audience.
"As Minister with responsibility for the Healthy Ireland framework I am delighted to see continual investment into walking and cycling infrastructure across the country. Walking is simple, free and one of the easiest ways to get more active, lose weight and become healthier and these walkways are vital to help people in rural areas to stay fit and keep well. Sometimes overlooked as a form of exercise, walking briskly can help you build stamina, burn excess calories and make your heart healthier" .
"Investment in recreational facilities has also proven to be very effect in boosting local economies here in Roscommon. I want to warmly welcome 2 projects in particular, €20,000 for the enhancement of the cycle way from Boyle to Lough Key and a further €15,178 for the promotion and marketing of the miners way and historical trails, this project was submitted by Úna Bhán Tourism Co-operative Society, at King House, Boyle.
"I want to thank the staff of Roscommon County Council and the local organisations for their hard work and efforts on these applications on behalf of the people of Roscommon , as without their hard work and dedication these walkways would not be as successful" Minister Feighan concluded.
The funding has also been welcomed by Deputy Denis Naughten and Senator Eugene Murphy.