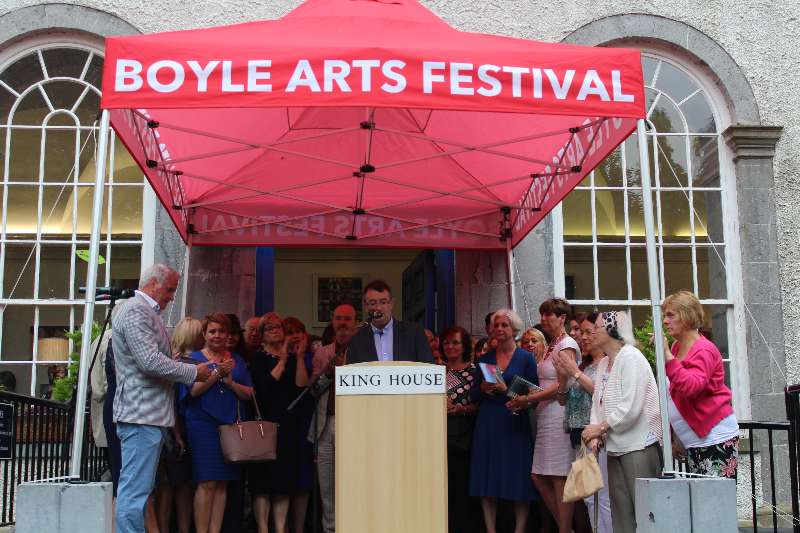 Art is a powerful form of expression which can not only bring people together in a language that is beyond words but can also affect our fundamental sense of self.
(By Brian Doherty)
It may convey challenging philosophical ideas or spiritual ones or simply halt us in our tracks with a simple suggestion of beauty.
Always, it is a sign of a highly functioning society and in Boyle, we have the finest collection of contemporary Irish art which spans the 30 years of the Festival's life.
Indeed, as civic collections of Art go, the Boyle collection punches high above its weight and is one of the foremost of its kind in the country. This didn't simply happen overnight. Rather, it is the result of years of effort and toil driven largely by one man, namely, the late Fergus Ahern.
It is because of both the vision and determination of Fergus that the Boyle Arts Festival, as well as the Civic Collection of Art, endure so well today. In grateful recognition of this and to celebrate the 30th Anniversary of the Boyle Arts Festival, the Arts Festival Committee will call on Marian Ahern to launch the first of what is to be an annual Fergus Ahern Award for merit, to an artist with work in the Main Exhibition.
In conjunction with this and as a further demonstration of the Boyle Arts Festival's commitment to fostering the Arts, we are delighted to announce another initiative whereby the winning exhibitor at the Open Art Exhibition will be invited to exhibit in the following year's main exhibition.