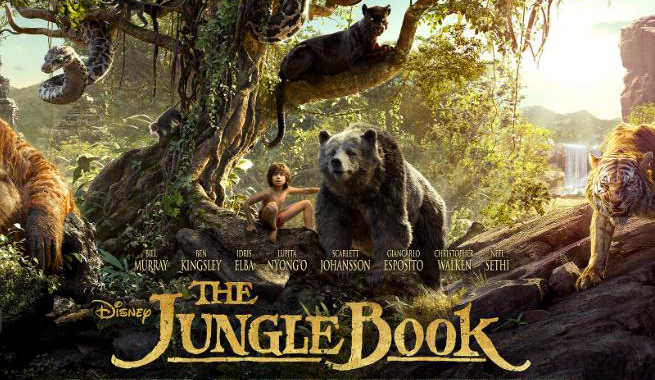 Anyone thinking of going to 'the pictures' in the next week or two, need look no further than Boyle Arts Festival! There is a top class projector and surround sound system installed in the Auditorium in King House and four major film presentations to see, during the Festival.
First up and for children is 'The Jungle Book'. This popular 2016 family film updates the 1967 Disney original and combines live action and CGI to tell the story of man cub Mowgli. With Neel Sethi as Mowgli and the voices of Bill Murray, Ben Kingsley, Idris Elba, Scarlett Johansson, and Christopher Walken, this will be the perfect way to spend a rainy Friday afternoon….. Or a sunny one! King House, Friday July 21st at 3pm.
Duration 106 minutes Classification PG
One of the highlights of the forthcoming Festival will be a chance to see a specially extended version of the film, Boyle – Through the Magic Lantern. This film offers a unique glimpse into life in Boyle in days gone by, as seen through the eyes of three local motion picture enthusiasts, Walter Cahill, Gerald Dodd and Jim Duffy.
Boyle –Through the Magic Lantern was very well received when it premiered during BAF 2012 and now it has been expanded with fascinating new local footage. The film has been compiled and edited by Brendan McGee, with the assistance of the families of the three cameramen and the Irish Film Institute. It takes a look at life in the Boyle area, between the late 1950s and the late 1970s and it will showcase rarely seen colour film footage of events like Summer horse shows, school openings, sports days, local pantomimes, the changing face of the town over the years and the only known movie film of the fire in St. Joseph's Church, which took place exactly 40 years ago, in 1977. Thursday July 27th at 1pm. Duration 50 minutes.
Photographer and film maker Darren Purcell moved to Boyle in 2013 and was quickly bowled over by the beauty of the town and the warm, welcoming nature of its people.  Boyle – Above & Beyond is a short film exploring Boyle in a way never done before, with sweeping vistas and spectacular aerial viewpoints.  Since the film was first shown in 2015, Darren has expanded the film with more stunning footage, some of it shot just days ago! This new version will be presented at BAF 2017 on Wed. July 26th at 4pm. Duration 25 minutes.
"What we see or what we seem, are but a dream….. A dream within a dream"
'Picnic at Hanging Rock'
Boyle Arts Festival are delighted to be able to present this classic Australian cinema masterpiece, celebrating its 40th anniversary in Europe this year. Originally made in 1975, 'Picnic at Hanging Rock' premiered in Irish cinemas in July 1977 and has not been shown in Boyle, since then. Directed by Peter Weir and based on Joan Lindsay's 1967 novel, the film is an extremely powerful and atmospheric piece of cinema. Set near Melbourne, on Valentine's Day in 1900, the story concerns a group of schoolgirls who fail to return, following a visit to Hanging Rock and the effects that their disappearance has on the community. Haunting, beautiful music and outstanding cinematography are only a small part of the experience and this is a film that will stay with you, long after the final credits have rolled. Saturday, July 29th at 3pm
With Rachel Roberts, Helen Morse, Dominic Guard and Anne Lambert.
115 Minutes. Classification PG