News
Free vouchers now available for use in co working hubs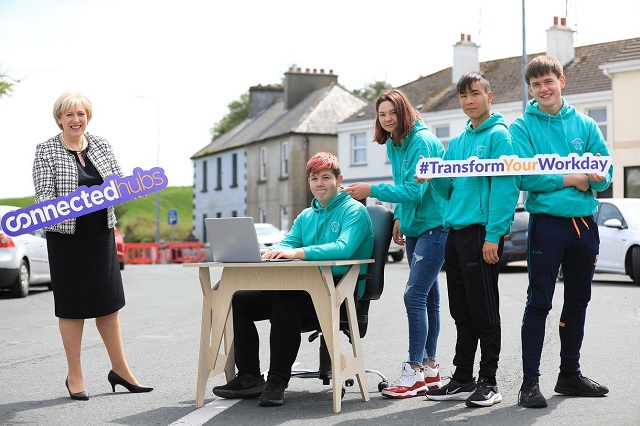 The Minister for Rural and Community Development, Heather Humphreys TD, has announced that Phase 2 of the Connected Hubs Voucher Scheme has gone live with free vouchers for co working space in the Spool Factory in Boyle now available.
Minister Humphreys launched the new phase during a live panel discussion on remote working at the National Ploughing Championships at which the Spool Factory participated.
As with Phase 1 of the Scheme, which ran from June until August 2022, registered users on the Connected Hubs website are being offered three free vouchers redeemable in participating hubs, like the Spool Factory for a day of co working.
Phase 2 will run from 21 September to 31 December 2022.
Speaking at the launch, Minister Humphreys said: "This is all about giving people the opportunity to achieve
a much better work life balance through the benefits of their local digital hub. Hubs have the potential to make a significant impact on rural communities and our regional towns. Given where I am today, at the National Ploughing Championships, I am delighted to announce that Phase two of the Voucher Scheme is now open."
"This Voucher Scheme will help more people to realise the benefits of remote working and will provide an opportunity to 'try before you buy'.
"This scheme will run to the end of December so I hope that some of our returning diaspora may consider extending their trips home for Christmas and look at working remotely in a local hub with a strong, reliable broadband connection", the Minister concluded.
Speaking following the launch at the Ploughing Championship, Brian Nereny from the Spool Factory said: "I am delighted that the Minster has decided to continue with Phase 2 of the scheme. Phase 1 was used up very quickly in the Spool Factory by those who wanted to try the hub experience and by many who were holidaying in the area. I see Phase 2 proving most beneficial to the many locals who will travel home this Christmas and may need to do a few days work in a hub like the Spool Factory".
Anybody wishing to register for their free vouchers that can be used in the Spool Factory or any hub around the country can do so online at www.connectedhubs.ie or via the ConnectedHubs mobile app.