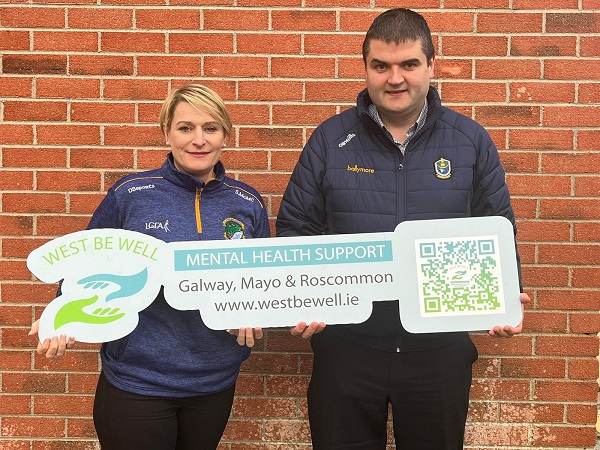 This Saturday will see Roscommon GAA County Board and the Health Service Executive (HSE) Community Healthcare West (CHW) Mental Health service, promote the 'West Be Well' mental health support initiative at the Connacht Senior Gaelic Football Championship semi-final clash between Sligo and Roscommon in Markievicz Park.
Established recently, the West Be Well group collaborates with the HSE Connecting for Life – Ireland's national strategy to prevent suicide – the Children and Young People's Services Committee (CYPSC) . It is supported by Healthy Ireland.
One of the first initiatives of its kind, it promotes timely, safe, evidence-based mental health messages and local and national mental health supports and services by the HSE or other state-funded organisations as well as mental health and suicide prevention education and training programmes and events.
It does so across a multi-channel digital platform incorporating Facebook, Twitter and Instagram accounts as well as its recently redesigned website www.westbewell.ie – the most comprehensive resource of wellbeing, mental health promotion and suicide prevention initiatives in Galway, Mayo and Roscommon.
John Prenty, Secretary of the Connacht Council noted Connacht GAA's endorsement of the West Be Well initiative commenting, "This builds on our previous successful mental health promotion initiatives with the HSE during the Connacht Championships in the past few years such as the promotion of Connecting for Life Strategy, Little Things and Green Ribbon campaigns."
Charlie Meehan, Head of Mental Health Services in HSE CHW remarked; "We are delighted that the GAA in Connacht have taken the opportunity to assist the public ability to get informed and up to date evidence based help and supports for members of our communities who may be in need of assistance."
Breda Crehan-Roche, Chief Officer HSE CHW stated; "Community Healthcare West welcomes collaboration with the GAA, an organisation that is so active and respected in communities across the country and appreciates the importance of health and wellbeing for all members of the public. We are grateful that so many GAA clubs in Galway, Mayo & Roscommon made their facilities available to us during the COVID-19 crisis in order to carry out testing, etc."
Chairperson of the Roscommon GAA County Board, Brian Carroll, said "Roscommon GAA is excited to partner with HSE West and the West Be Well initiative. We are looking forward to working with all the partners of West Be Well to assist all of our members and all communities that live in Co. Roscommon. The need for a resource like this is timely and we would encourage all members of our community to consider using this resource as a tool for maintaining their own wellbeing." Brian continued "The platform's abundance of safe, evidence-based mental health messages and detailed directory of supports and services makes it an ideal reference point for members of the public and Roscommon GAA members that may be dealing with mental health/wellness-related matters. I'm delighted to endorse this project."
Sharon McManus Cooley, Chairperson of the Roscommon GAA Health & Wellbeing Committee remarked that the partnership with West Be Well would enable Roscommon GAA Health and Wellbeing Committee to extend its support for our 32 clubs. The Health and Wellbeing Committee wish to promote the holistic health of the club members and also into the wider community, raising awareness around positive health and physical wellbeing. Sharon also noted her committee is also pleased to be part of the collaboration with West Be Well as Roscommon is now joining Mayo and Galway GAA who promoted the resource at last week's match in Castlebar. Sharon describes the website as a wonderful resource, featuring detailed sections on health and wellbeing and it is very user friendly with easy to navigate sections; "I am confident that the www.westbewell.ie website could provide players, coaches, clubs and our communities with the tools they may need should they encounter any emotional or mental health distress. There are currently nine clubs in Roscommon participating in the Croke Park Healthy club project and this will be an invaluable signpost to their current work and will assist other clubs to join the healthy club project next year."
Mattie Kilroy Chairperson of the Connacht Council Health and Wellbeing committee comments on the partnership with the HSE: "This builds on the strong relationships that we already have with the HSE in Connacht and with both organisations being very active in every community across Connacht, it is an opportunity to assist our communities and members by raising awareness of this magnificent resource. All of our County Health and Wellbeing committees across Connacht have been very active since they got established promoting wellness, good health and inclusiveness for our clubs and communities, and this resource assists them to assist clubs who may be seeking assistance."