Events
Sinead wins €1455 50/50 draw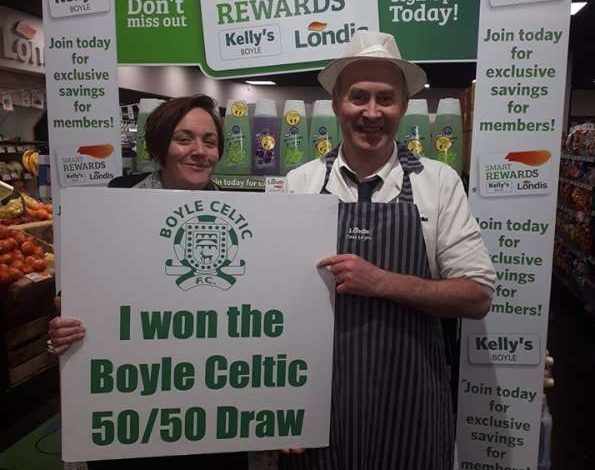 Well done to Boyle's Sinead Corrigan who won Friday night's Boyle Celtic 50/50 draw.
Sinead nets herself €1455 and is pictured courtesy Boyle Celtic with Richard Kennedy from Londis where she bought her ticket.
Tickets, sponsored by Keville Engineering are now on sale for next week's draw in Dodds Bar.
Every week, the total money collected is split 50/50 between the winner and the club. The draw will be broadcast live on Facebook from the venue of the night. Tickets are €2 each or 3 for €5.
Draw envelopes are on sale throughout the town and available from our club officials also. If buying 3 for €5, just place 2 envelopes and the €5 into a 3rd envelope and seal it.
The club are hoping to undertake the next phases of its development, with upgrades to facilities at the club, a top priority, due to the increased number of underage, girls and boys teams. Boyle Celtic are catering for over 700 children now and we must keep moving forward with our facilities and equipment to give each child the best opportunity to enjoy their time playing soccer and develop as both an individual and as a valued member of their team.