News
Gold medal for Boyle man's Landscape Architecture firm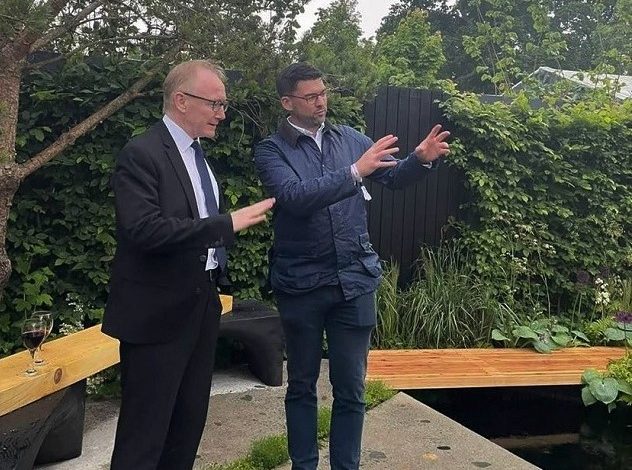 Congratulations to Oisin Griffin from Griffin Landscape Architecture who won gold at the recent Bord Bia Bloom Garden Festival which was held in the Phoenix Park in Dublin.
Oisin is originally from the Frenchpark Road in Boyle and along with his friend Sean O'Malley, he runs Griffin Landscape Architecture.
Oisin's Mum and Dad Zita and Eugene live in Boyle and are well known in the community.
A third-generation horticulturist and gardener, Oisín holds a degree in Landscape Architecture from University College Dublin and a Masters in Environmental Law and Sustainable Development from Queen's University Belfast. He leads the design firm, Griffin Landscape Architecture, and seeks to explore sustainable and ecologically enhanced landscapes through his designs.
The 'Pathways to Home Garden' that won the award for the company, is designed to represent the journey from homelessness and sleeping rough to living in a safe and secure home. Reflective of the physical and emotional journey undertaken by the Trust's clients, the garden provides a respite from the pressures of homelessness.
A series of pathways of varying heights transects the garden and suggests a staggered journey punctuated by opportunities to seek support. A constrained use of colour defines the textured planting at different levels, which is complemented by the stillness of the timber benches. Carved from wind-blown silver fir, they provide places for contemplation and conversation while overlooking the calming water and considering one's pathway through life.
According to Bloom: "Designed by Seán O'Malley and Oisín Griffin, the garden prompts reflection on the innovative work of Peter McVerry Trust, which provides homes, embedded in a green environment, and wraparound services as part of the Government's 'Housing First' model".
(Pic courtesy Minister Frank Feighan shows Oisin detailing his winning entry to Minister Feighan)