Boyle Sport
Golf club Captains Prize goes to Colin Whyte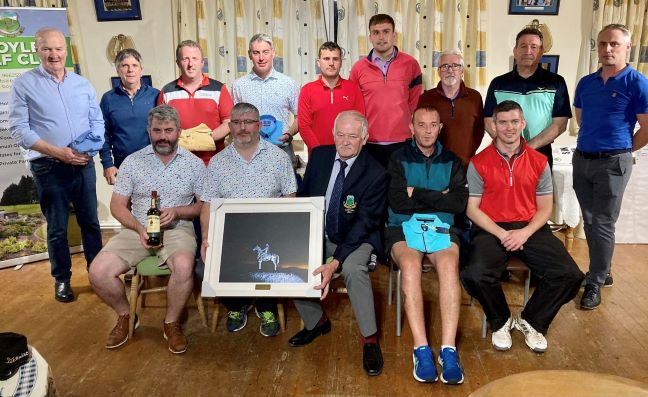 CAPTAINS PRIZE – There was considerable doubt as to whether this years Captains Prize to the men could proceed as planned given the rain of biblical proportions that had fallen on the preceding Friday. The traditional Captains Scramble went ahead on the Friday with a very respectable turnout given that there was rain from start to finish. The Captains Prize to the Ladies fell victim to conditions though and was postponed.
Thankfully the big day itself passed off without a hitch. Conditions were challenging but some competitors brought in fantastic scores despite this. The overall winner of the Captains Prize was Colin Whyte, son of the delighted Captain himself, Liam Whyte. The presentation happened after the conclusion of the 9 hole playoff. Liam gave a speech where he paid tribute to all who had helped him in his captaincy and all those who had volunteered in any capacity for the club during the year. 2nd – Brian Furey, 27 Gross Jason Beirne, 3rd Sean Purcell, 18 nett David Wynne, Past Captain Gabriel Lavin, Seniors Prize Paddy McLoughlin, Category 0-13 Tom Kearney, 14-20 Killian Cox, 21+ Dessie Murphy, 1st 9 Paul Brown, 2nd 9 Enda Smith, 3rd 9 Karl Keenan, Visitor Paul Whyte, Nearest the Pin Paddy McLoughlin, Longest Drive Joe Whyte.
Captains Scramble – The winning team consisted of Joe Whyte, Paul Whyte, Jonathan Egan and Karl Keenan.