Boyle Sport
Prizewinners at Lady's Captains Day in Boyle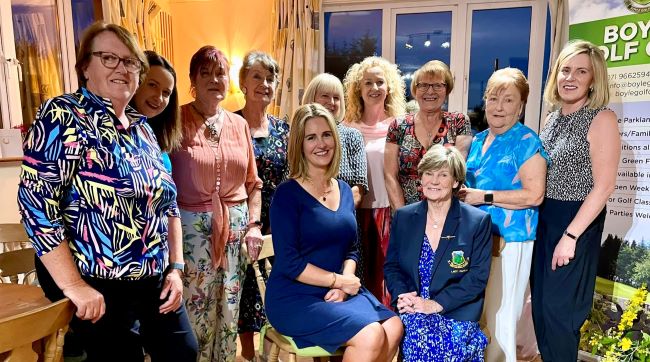 LADY CAPTAINS PRIZE – Maura O'Farrell's Lady Captains Day was a great success despite conditions overhead proving challenging for the competitors at times. The presentation of prizes took place after dinner in the clubhouse on the evening of the competition. Michelle Quinn claimed her first "major" as the winner of the Lady Captain's Prize for 2023, just edging out Mary O'Hara by one shot and Tish Perry won the prize for Best Gross. Fiona Keenan made her first podium appearance in a major, taking 3rd prize.
Other prizewinners were : Category 1 Caroline Carty, Category 2 Susan O'Mahoney, Category 3 Carmel McGarry, Past Captain Liz Dwyer, 1st 9 Kathleen Candon, 2nd 9 Caroline Morgan, Improvers Prize – Yvonne Maloney.
LADY CAPTAINS PRIZE TO THE MEN – 18 Hole Stableford 17th and 18th June – 1st Kevin O'Connor 45 points, 2nd Mark O'Donohoe 42, Gross Charlie O'Donnell, 3rd Owen Garvin
MENS' COMPETITION RESULTS – Thursday 15/6/23 1st Jonathan Egan 29 points, 2nd Cillian Doyle 27, 3rd Gerry Carty 26. Cillian Doyle and Lorcan Egan split the 2s club.
Thursday 22/6/23 1st Jonathan Egan 31 points, 2nd Jim Callery 27, 3rd Cillian Doyle 26. 2s club split between Liam Whyte and Lochlainn Conboy.
FIXTURES – The clubs' annual Open Week is almost upon us, commencing on Monday 10/7 with 9 hole competitions for Men and Ladies, Ladies Day is Tuesday, there will be a Mixed Rumble on Wednesday, each team to have 2 men and one woman, Thursday will be a Mens 18 hole singles and the week wraps up on Friday with a Scramble with music and presentation afterwards in the clubhouse. There will be 9 hole competitions most days in addition to the main competitions listed above.
This week always attracts a number of visitors to the club ( and the area in general) and they are always very welcome. We are also grateful for the great support we have received over the years from our local businesses without whom our Open Week would not exist.
MEMBERSHIP FEES – Membership fees are now overdue. The club reserves the right not to present prizes after this date to those whose memberships are not current. A full list of the fees and payment arrangements are available on boylegolfclub.com.
If paying by bank transfer, our IBAN is IE59 BOFI 905328 22439700 , please put your name in the narrative so we know who has paid.
Prizewinners in the Lady Captains Competition – Back – Mary O'Hara, Caroline Carty, Tish Perry, Kathleen Candon, Caroline Morgan, Fiona Keenan, Liz Dwyer, Carmel McGarry, Susan O'Mahoney
Seated – Michelle Quinn, Maura O'Farrell