News
Green Dog Walkers launched in Boyle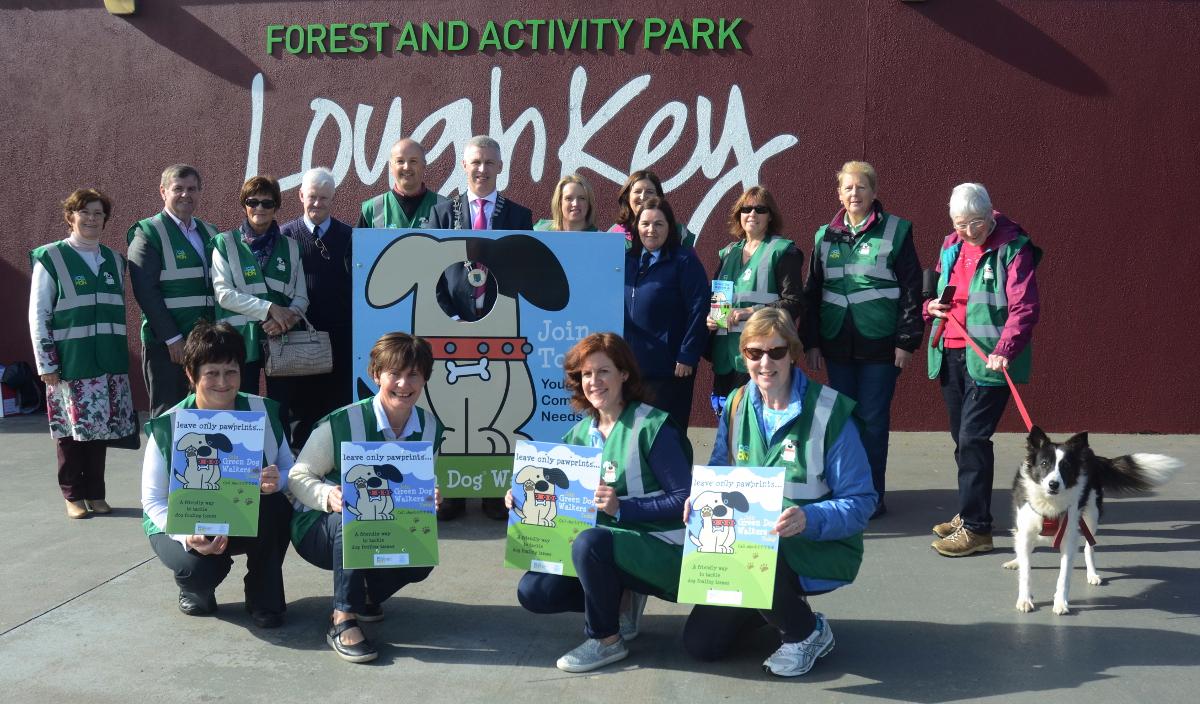 A new initiative by Roscommon County Council to deal with Dog Fouling was launched recently in Lough Key Forest Park, Boyle.
Green Dog Walkers is a non-confrontational, friendly way to change attitudes about dog fouling. It is a community based scheme that volunteers can adopt and promote in the community.
Suzanne Dempsey, Environmental Education Officer, Roscommon County Council explained to the Tidy Towns groups at the launch "The philosophy of this campaign is to start shifting public attitudes so that it becomes socially unacceptable not to clean up after your dog. With this change in attitude it is hoped for a general acceptance that dog owners must clean up after their dog fouls and therefore reduce the amount of litter in public areas."
The idea behind the Green Dog Walkers campaign is to encourage dog owners to sign a pledge to always:
·         Clean up after their dog
·         Wear the Green Dog Walkers Hi-Vis jacket
·         Carry extra dog waste bags
·         Be happy to be approached to 'lend' a dog waste bag
·         Be a friendly reminder to other dog walkers to clean up after their dogs
Eight Tidy Towns groups attended the launch and signed up to the Green Dog Walkers programme :
·         Cloontuskert Tidy Towns ,
·         Roscommon Tidy Towns,
·         Curraghboy Tidy Towns,
·         Tarmonbarry Tidy Towns,
·         Ballinagare Tidy Towns,
·         Boyle Tidy Towns
·         Castlecoote Tidy Towns,
·         Cortober Tidy Towns
Cllr. Nigel Dineen, Leas-Cathoirleach of Roscommon County Council stated that he was delighted launch such a positive campaign and was impressed the antidog fouling audio devices which resulted a 66% reduction on dog fouling at Lough Key Forest Park.
The audio devices were installed in Lough Key Forest Park from June to September by Roscommon County Council in response to a number of complaints received in relation to dog fouling problem at the tourist attraction as well as concern from visitors that dogs were being left off leads in the vicinity of children.   The audio devices were activated when visitors to the park walked nearby and  played a recorded message of'Enjoy Lough Key Forest Park and please clean up after your dog and keep your dog on a lead at all times. Thank you"  
"Pawfall Analysis" and "Dog Fouling Analysis"  was conducted at two locations in Lough Key Forest Park.
Marion Shine Walk
– 416 walkers
– 167 dogs
– 40.1% dog walkers
– Peak dog walking time 11 – 12 noon with average of 0.9 dogs per hour.
Outside the Visitor Centre
– 6198 walkers (lots of school tours)
– 351 dogs
– 5.7% dog walkers
– Peak dog walking time 6 -7pm with average of 4.9 dogs per hour. (Note: This is a large number of dogs over a one week period. The % of dogs appears low due to large number of school tours)
Pic shows Back Row (L-R)Patricia Crosby, Tarmonbarry TT  ,Tom Crosby, Tarmonbarry TT  Kathleen Mannion, Curraghboy TT, Danny McHugh, Litter Warden, RCC Aidan McDermott, Riteview Solutions, Nigel Dineen, Leas-Chathoirleach of Roscommon County Council, Suzanne Dempsey, Environmental Education Officer, RCC, Jan Flanagan, Boyle TT, Annette Donlon, Litter Warden RCC, Jackie Valentine, Boyle TT, Ann Connell, Castlecoote TT, Christina Walker Roscommon TT & Rosie the Dog