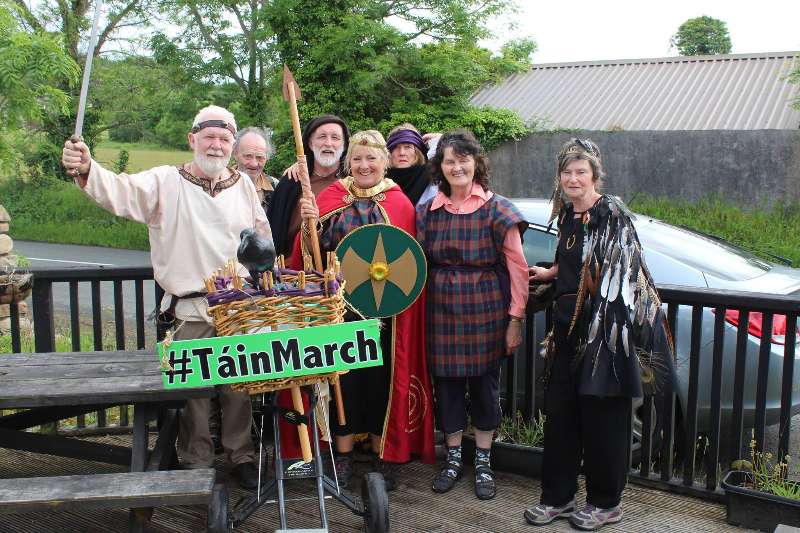 Now in it's 8th year The Táin March Festival take place this weekend.
The Festival is run by a voluntary committee who are passionate about preserving the history and culture of the Táin with the hope of generating greater interest and participation of local communities. The work of the Táin Committee centres on three key areas:
The Táin March itself is the physical act of walking from Rathcroghan site in Roscommon all the way to Cooley in County Louth. This takes place over three weekends and 12 walking days in total. Through fields, over mountains and wading through streams the marchers follow  Queen Maeve's Route in pursuit of the Brown Bull. At key towns and villages the local community organises events, receptions and parades to welcome the Marchers.
Events on Saturday May 18th
Depart Lissonuffy at 9.30am and proceed to Slieve Bawn Mountain. At the mountain local groups and schools will join and cross the top of the mountain and down to Doughill. At Johns Bar in Doughill there will be a Warriors Feast with Queen Maeve in Attendance.
The Community are welcome to join the March at 10.30am at the Western Car Park at Slieve Bawn, meeting point is T20.
Bring your lunch! Hear Ancient Music Ireland, greet the marchers with their prehistoric musical instruments as they arrive from Lissonuffy.
The tale of the Táin will be told as the march proceeds to Johns of Doughill where there will be a free bus to bring walkers back to their car.