News
'Hidden Gem' exhibition launched in King House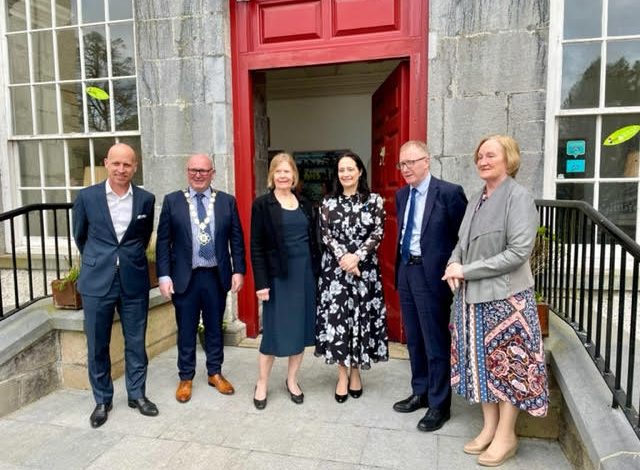 A new innovative and interesting exhibition was unveiled in King House on Thursday afternoon by Minister for Tourism, Culture, Arts, Gaeltacht, Sport and Media – Catherine Martin.
"Hidden Gem" is a collection of works, tools, drawings, jewellery and gems by the late Erwin Springbrunn.
Erwin, who passed away in 2016, was a prizewinning master gold and silversmith, who lived outside Ballinameen.
His works have graced private an public collections in Ireland, UK, America, Europe and beyond and he was commissioned to undertake works for various churches and for Knock Shrine. Other public works of his include replicas of the Tara and Ardagh brooches and special pendants for presidents Robinson and McAleese.
The Hidden Gem exhibition is the only one of its kind in the country and has been curated by Shane Forsyth and funded by the Creative Ireland programme.
Cathaoirleach of Roscommon Co Co Joe Murphy said: "The opening of this exhibition is the first step in a number of exciting development for King House and the Cultural Quarter of Boyle. The Connaught Rangers exhibition is being upgraded in consultation with the Connaught Rangers Association and will reopen at Easter. An extensive programme of investment in reimagining the overall visitor experience in King House, along with considerable enhancement and conservation work to the building and outdoor campus is soon due to commence".
The Cathaoirleach went on to thank Doris Selz for her time and support in making the exhibition possible.
Anjan Selz also addressed the gathering on behalf of the Springbrunn family and said the late Erwin was both a great and a good man and a great craftsman who left a lasting legacy.
Minister Martin said the exhibition will provide visitors a glimpse in to the place and history of "one of the finest goldsmiths and gem cutters in all of Europe". "It is a fitting tribute that Erwin's workshop is in King House and it will go a long way in making King House one of Irelands premier tourist attractions".
The exhibition will join the Mary McAleese collection, the Connaught Rangers exhibition, along with the history of the Kings of Connaught and other interesting exhibits and interpretative tours in King House, which is due to reopen to the public at Easter.