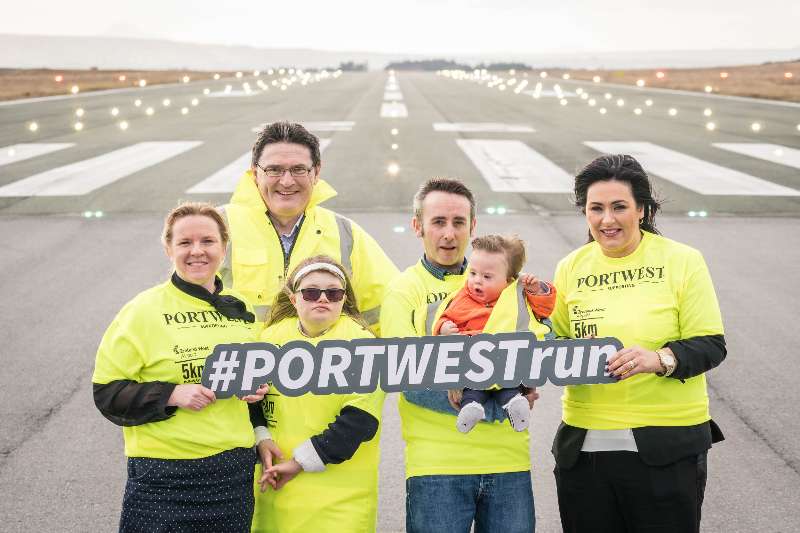 Ireland West Airport is delighted to announce that Mayo & Roscommon Hospice Foundation, Down Syndrome Ireland and the Childrens Medical Research Foundation Crumlin have been selected by airport staff as its charity partners for 2018.
Every year, airport staff members have an opportunity to nominate a charity partner for the following year. The three charities with the most nominations are then selected as the company's new charity partners.
A number of events will take place during the course of 2018 which will engage passengers and staff with the aim of raising as much money as possible for the three charities. The headline event for 2018 will again be the annual charity 5k runway fun run which will take place on the runway at Ireland West Airport on Saturday May 26th 2018 at 7pm. The airport is delighted to welcome local Mayo business, Portwest as the new headline sponsor for this years event.
Runners and walkers will take-off down the runway at 7pm and complete a 5km course with a difference. All are welcome to attend what promises to be fantastic evening for all the family, raising much needed funds our three charities in 2018.
Entry to the event costs €20 per adult and €5 for under-16's. A special family rate of €40 will be available for families of 2 adults and 2 kids.  All participants will receive a race t-shirt and complimentary car parking and refreshments at the airport will be provided on the day. Participants can sign up and find more information by visiting www.irelandwestairport.com/runwayrun. The number of participants is restricted and those interested are advised to register early to avoid disappointment.
Launching the charities of the year programme and 2018 5km runway fun run Joe Gilmore, Managing Director, Ireland West Airport said 'We are delighted to be partnering with three great new charities in 2018. The fantastic work that these charities all undertake really does make such a difference to the people that they support in our community. These are charities that resonate with many families in our region and we look forward to supporting them through fundraising initiatives over the coming year and in particular our popular runway run event which again promises to be a great event for all the family. We are also delighted to welcome local Mayo business Portwest as the headline sponsor for this years event.'
Speaking at the launch on behalf of the Runway Run sponsor, Portwest Ltd., Henry Hughes, Director said "Portwest, a firmly established world leader in the design and manufacture of high quality workwear, is delighted to be part of this annual charity runway fun run. We are pleased to support such worthy causes and wish all participants the very best on the day."
Martina Jennings CEO, Mayo Roscommon Hospice Foundation said "We are absolutely delighted and extremely grateful to be chosen as one of the charities supported by Ireland West Airport in 2018. All fundraised income goes directly towards our Palliative Care Service and to the building of our Hospices. In 2017, we started the build of our Hospice in Castlebar, at a cost of €10m, which will be very quickly followed by our Hospice in Roscommon at a cost of €5m. As we receive no Government funding we are solely dependant on the generosity of companies and the public across both counties to continue to provide this vital service. We look forward to working with the staff and management of Ireland West Airport in 2018, and are so excited to be part of their fundraising programme."
Sarah Joyce, Head of Corporate Partnerships, CMRF Crumlin said "CMRF Crumlin are absolutely delighted to be chosen by the staff of Ireland West Airport as one of their chosen charities for 2018.  Their support is vital to the incredible work being carried out at Our Lady's Children's Hospital, Crumlin and the National Children's Research Centre. These passionate nurses, doctors and researchers are providing world class care and cures thanks to the kindness and generosity of people like our supporters at Ireland West Airport.  And with over 4,000 families travelling from Connaught to the outpatients' department at Our Lady's Children's Hospital, Crumlin every year, CMRF Crumlin is right at the heart of thousands of families in the west of Ireland."
Gary Owens, CEO Down Syndrome Ireland, comments "We are so grateful to the management and staff at Ireland West Airport for choosing us as one of their charity partners for 2018.  Your funds will be very wisely spent on the development of a new Regional Centre in Swinford, Co Mayo. We are creating a Centre of Excellence with 8 full time specialists divided equally to support children and adults with Down syndrome across the lifecycle.  Our specialist teams in Mayo, Roscommon, Sligo and Leitrim will run all their services, conferences, meetings and training from this Regional Centre. We need to raise over €1.5 Million this year and we have to raise 85% of these funds ourselves, so the money that is raised by the team in Ireland West Airport is really important so that we can implement our ambitious plan."
 (left to right): Photographed at the launch of the 5K Runway Fun Run sponsored by Portwest at Ireland West Airport  were from left to right; Sarah Joyce, CMRF Crumlin; Joe Gilmore, Ireland West Airport; Ellen Black, Kiltimagh; Adrian Doherty, Down Syndrome Ireland with his son Louis, aged 18 Month; Martina Jennings, Mayo Roscommon Hospice and Henry Hughes, Portwest. Photo : Keith Heneghan